The Best Online Web
Design Bootcamps
Businesses should never underestimate the importance of web designers. Web designers are responsible for potential customers' views of their company's content. It's because of skilled web designers that companies gain a competitive edge over rivals in terms of web traffic and subsequent profits.
Reading this guide will help you figure out the best way to become a web designer. We've featured the best web design bootcamps in 2021.
Quick Facts About the Best Online Web Design Bootcamps
School Name
Tuition
Length
BrainStation
$15,000
12 weeks
CareerFoundry
$6,900
10 months
Devmountain
$4,500 (in-person)
$7,900 (remote)
16 weeks
General Assembly
$14,950
12 weeks
Noble Desktop
$3,800
96 hours
Ironhack
$12,500
$13,000
Nine weeks (full-time)
24 weeks (part-time)
Kenzie Academy
$10,900
Six months
Nucamp
$1,480
17 weeks
Springboard
$349
Four weeks
Thinkful
$12,150
$7,900
Five months (full-time)
Six months (part-time)
The Top 10 Online Web Design Bootcamps of 2021
You can easily learn web design by attending a bootcamp. These online coding bootcamps will help you cover all the principles and practices of design. If you want to learn from the comfort of your own home, take a look at what these top web design bootcamps offer.
With a 90 percent job placement rate within 180 days of graduation, BrainStation's UX Design Bootcamp is growing in popularity every day. You can learn the basics of user experience (UX), user research, design research, responsive design, and user interface (UI) design.
Getting admitted to this bootcamp is relatively straightforward. It's recommended that you speak to an advisor before submitting an online application. Once you apply, you'll receive an email invitation for an interview. If successful, you then have to complete BrainStation's admissions test.
If you can't pay the $15,000 cost of the course upfront, you can pay in monthly installments. You can also take advantage of the scholarship programs and employment sponsorship opportunities.
CareerFoundry is known for its ability to help students upskill in their profession. They offer career services to students who need to change or advance in their careers. You'll be prepped for interviews, get help polishing up your resume, and learn how to write engaging cover letters. By the end of the session, you'll have a solid personal brand.
This bootcamp features plenty of education paths for aspiring designers. If you're a beginner, you can take an introductory course in UX design, UI design, or front end web development. Front end web development will help you learn HTML and CSS, both of which are essential programming languages for web design.
The main programs will help you learn the basics of becoming a web designer. The UX design will equip you with the best tools, processes, and skills to get your dream job. You're guaranteed to get an experienced instructor, expert mentor, and career coach who will help you enter the field.
Devmountain is a reputable design and coding bootcamp that helps students start their careers in tech. This platform features immersive and online training sessions for beginners and working professionals. The main programs at Devmountain are web development, UX design, iOS development, and software engineering.
When you attend the Devmountain UX design bootcamp, you'll get a wide range of design skills. The school designed this program to help students master information architecture, research, prototyping, and visual design. These are foundational topics to help you create the best design perspective possible.
You should also take advantage of Devmountain's employer networking opportunities. They will equip you with plenty of resources to make sure you get a job. You'll receive plenty of career insights and interview prep sessions to be successful. You'll also have an opportunity to optimize your resume and build your personal brand.
General Assembly's UX design immersive course will take you through all you need to know to land a web design job. It will also equip you with the right skills and knowledge to set you apart from other candidates.
As part of the curriculum, you will learn UX/UI fundamentals, design iteration, and UX career planning. This bootcamp has placed over 11,000 graduates in high-paying jobs. The career service program attached to this competitive curriculum has proven to be a worthwhile investment.
There are multiple tuition payment plans to make this program affordable. You can pay the entire tuition upfront and save $450, or you can also decide to make three payments of $4,984. Most students take advantage of the income share agree
Ironhack's UI/UX bootcamp will help you prepare for your new career as a web designer. This bootcamp will help you learn HTML and CSS, both of which are the basic foundations of design in web applications. As part of the curriculum, you will go through a 40-hour online training session on UX/UI design. This is a great opportunity for beginners.
Whether you pick an online or an in-person program, you'll receive the same quality education. This program features visual design for coding project management and UX design. The diversity of the program will let you experience varied concepts of designs. By the end of the program, you will have six projects completed to prove your expertise.
If you want to learn to design a user interface, you might want to consider Ironhack as your top bootcamp. This platform features different tuition financing options to help make it more affordable. Take advantage of its partnerships with Climb Credit and Skills Fund to cover your tuition.
Kenzie Academy provides exceptional tech programs and career service support to its students until they land a job. The school conducts career events for students to learn job-hunting tools and techniques. You'll also receive extensive support from the online community during their social hour.
In six months, the UX design part-time program will teach you how to design user-centric projects for websites. When you successfully finish the program, you'll receive a certificate of completion.
The school also offers plenty of tuition payment plans for aspiring students. You can choose to cover the fee upfront, in installments, or through a loan provider. If you want to become a web designer, Kenzie Academy is one of the best choices.
Noble Desktop provides great learning opportunities for aspiring tech professionals. You can find certificate courses in digital design, web design, front end web development, data science, fintech, Python development, and software engineering.
You'll learn how to code and design web applications from scratch by attending web design classes online or in person. The school designed an expert curriculum to help aspiring professionals gain hands-on experience. There are multiple web design certificate programs to help you learn how to code in CSS, HTML, and JavaScript.
Its web and visual design certificate program will help you develop a broad perspective of web design. You'll learn how to create layouts and optimize web graphics to achieve a successful final product. You must complete a project portfolio to showcase your new skills.
In addition to an expert curriculum, you'll also receive one-on-one mentorship to make sure you're right on track with your studies. It's an exceptional opportunity to polish your resume and social media profiles. You can also take advantage of your mentor's extensive experience by discussing career prospects and challenging concepts.
With a proven curriculum designed by Microsoft experts, you should expect nothing but the best from Nucamp. The Front End Web and Mobile Development course will take you through all the necessary technologies and how to apply them in real-world setups.
By joining this bootcamp, you'll learn how to build responsive web applications with Bootstrap. You will also learn web development with React, which is the most popular JavaScript library.
Nucamp offers one of the best deals when it comes to tuition payment plans. Instead of paying the full amount, you can take advantage of their Fair Student Agreement and pay $370 four times without interest. You have to start paying on the first day of school. You can also pay your tuition faster if you make monthly payments for 18 months.
You can learn the fundamentals of design by taking Springboard's Introduction to Design course. This platform features an exceptional program that is beginner-friendly to all aspiring web designers. In four weeks, you'll learn the basics of design by completing hands-on projects.
The Springboard design course will take you through sketching techniques, Figma, style guides, and designing in high fidelity. By the time you complete the lessons, you'll have an in-depth understanding of the design industry, and you'll also have experience working with Sketch or Figma.
Not only do you get a comprehensive curriculum, but you'll also get access to an expert student advisor and teaching assistant to help you navigate. The school will also provide you with lifetime access to learning materials and projects.
Thinkful presents an opportunity for professionals and beginners to perfect their web design skills by attending its UI/UX design bootcamp. This bootcamp helps train students who want to become UX/UI designers, web designers, and UX researchers.
In addition to a comprehensive curriculum, you should also expect extensive career coaching services. Thinkful provides each student with a personal mentor from the industry to help them navigate their new skills. The mentors meet with students each week and provide beneficial feedback and reviews. You can also gain career insights.
In addition to mentorship sessions, you are also entitled to career coaching sessions. You will undergo mock interview training sessions, resume writing support, and LinkedIn profile reviews. You can pay upfront, in installments, with deferred payments, or through an ISA.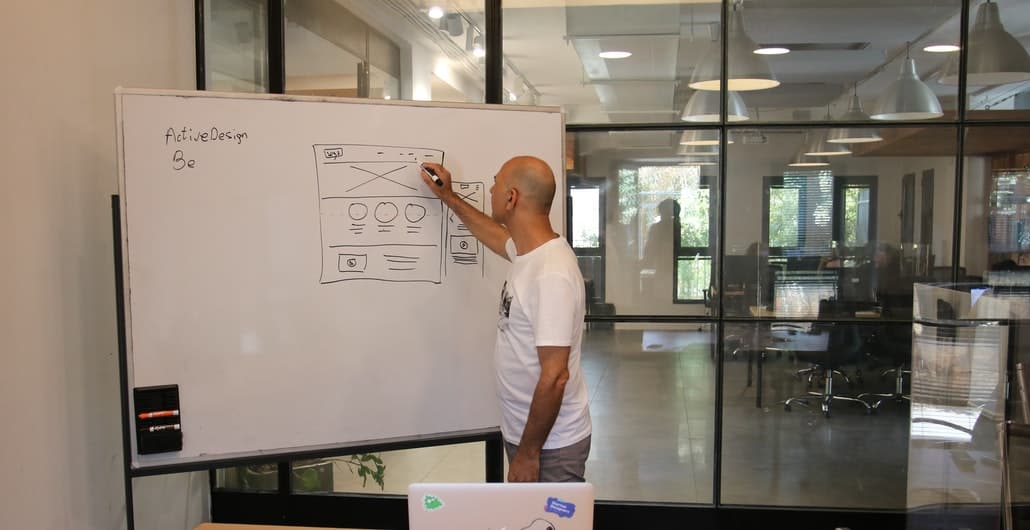 What Can You Learn at an Online Web Design Bootcamp?
At an online web design bootcamp, you can learn web development, design tools, and SEO. You should choose a program that offers the best curriculum possible. Read below to learn more about the things you can learn.
Front End Web Development
If you enroll in a web design bootcamp, you'll encounter HTML and CSS as the main programming languages. They're vital for creating web pages and styling them aesthetically. Learning how to code in HTML or CSS is fundamental for a web design career.
Most web design curriculums feature at least one web design tool. You should learn to use Photoshop, Illustrator, or Sketch. These are common applications used by web designers to get the best styling outcomes.
Search Engine Optimization
An exceptional web design course will cover the basics of design as well as the best way to get noticed by search engines. Search engine optimization, also known as SEO, is an important part of web design and content creation. You should learn the basics of Google Analytics, keyword research, and link building.
What to Look for in Online Web Design Bootcamps
You must attend a bootcamp that is best suited to your learning needs. The coding bootcamp should give you proper training on coding and designing. These are some of the factors you need to consider before attending any web design bootcamp.

The web design industry is competitive, and it can be challenging to find a job by yourself. If you can attend a bootcamp with a high job placement rate for web designers, you will have a much easier job hunt. If a bootcamp does not list high graduation or job placement rates, you should probably choose another school.

Check if the program features a career services plan. Career services help students prepare for job applications and interviews. This is usually done by taking them through mock interview training sessions, resume and cover letter writing, and social media account review.

Having a wide range of tuition payment plans to choose from is essential. Don't settle for a program that only limits you to paying tuition upfront. Some bootcamps allow students to pay in monthly installments, deferred tuition, or through private loan providers. Income share agreements are a favorite among recent graduates in the field.

Narrow down your list of potential web design bootcamps by checking the average graduate salaries. The annual salary of the alumni of web design programs will show the relevance of the curriculum to the industry. The more updated and career-oriented the curriculum, the higher the demand for the graduates and the higher the salary.
Online Learning vs In-Person Bootcamps
An in-person bootcamp will help you cover all the essential topics of web design, just like an online program would. The major difference between the two platforms is that the online platform is virtual and therefore more flexible.
Bootcamps maintain the same standard of education across all platforms. The training programs will all provide similar benefits and opportunities. However, online bootcamps are typically more affordable. Some are also self-paced, which means you can learn at any time of day. This is a great choice if you work full-time.
Are Online Web Design Bootcamps Worth It?
Yes, online web design bootcamps are worth it. These online web design bootcamps will provide you with the necessary training to excel in the industry. You'll develop the right perspective to solidify your skills as a web designer. Expert practitioners in the field curate the curriculums so they reflect trending best practices in web design.