The tech industry is constantly growing, which provides plenty of career opportunities. If you would like a well-paying job, the tech industry has plenty to offer. We've gathered salary data and job growth information on the best tech positions. If you are ready to start your tech career in 2021, this article is for you.
We cover the 10 best tech jobs of 2021 and include information on how to get a role in the tech industry without previous experience. All statistics have been taken from the US Bureau of Labor Statistics (BLS). All job outlook projections are for the period 2019-2029. These tech positions are listed from highest to lowest average annual salary.
The 10 Best Tech Jobs of 2021
| Tech Job | Median Pay | Projected Growth | Degree Required? |
| --- | --- | --- | --- |
| Digital Marketing Manager | $141,490 | 6% | Yes |
| Data Scientist | $126,830 | 15% | Yes |
| Computer Network Architect | $116,780 | 5% | Yes |
| Software Developer | $110,140 | 22% | Yes |
| Cyber Security Analyst | $103,590 | 31% | Yes |
| Database Administrator | $98,860 | 10% | Yes |
| Systems Analyst | $93,730 | 7% | Yes |
| Network Engineer | $84,810 | 4% | Yes |
| Computer Support Specialist | $55,510 | 5% | No |
| Graphic Designer | $53,380 | -4% | Yes |
The 10 Best
Tech Jobs of 2021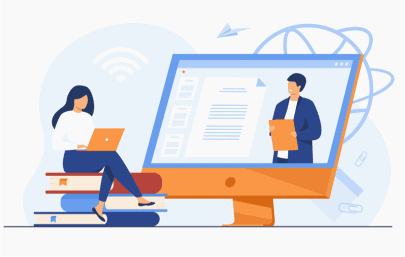 What Is a Digital Marketing Manager?
Digital marketing managers are responsible for running business campaigns and operations. Marketing managers are often in charge of developing strategies to boost sales. Managers deal with marketing campaigns, advertisements, and product launches. They typically work for large corporations. The digital marketing manager role boasts the highest annual wage in the tech industry according to BLS.
What Does a Digital Marketing Manager Do?
Communicate with large teams about potential business strategies
Write and enforce timelines for the launch of a product
Lead a marketing team through the process of launching a product
What Skills Do I Need to Become a Digital Marketing Manager?
To be a successful digital marketing manager, it is useful to have a background in tech or a degree in a tech field. On top of technical expertise, digital marketing managers need to be able to take initiative and be forward-thinking and business-oriented.
What Is a Data Scientist?
A data scientist uses data and information to solve complex issues. Data scientists work in many different areas and fields, such as business, government agencies, healthcare, and education. Almost all businesses need data scientists to help them make sense of their data and improve performance. The data scientist role enjoys a very high median annual wage of nearly $127,000.
What Does a Data Scientist Do?
Examine unstructured data and provide potential solutions for sorting information
Convert raw data into processable information
Present data in visual or graphic format to allow easy access and analysis
What Skills Do I Need to Become a Data Scientist?
Most data scientists have a background in statistics or mathematics. However, it is possible to enter the field of data science with no formal education. There are plenty of online resources and courses available to help you get up to speed. To become a data scientist you need to be methodical, organized, and creative.
What Is a Computer Network Architect?
Computer network architects are responsible for creating wide area networks or local area networks. Computer network analysts work with businesses, companies, and agencies to lay out the best network plan. Network architects can also be expected to set up or upgrade network adapters, routers, and other hardware.
What Does a Computer Network Architect Do?
Implement a strategy to create strong data communications networks
Work in collaboration with an organization's chief information officer to devise a functional network architecture plan
Stay on top of new technologies and tools for potential upgrades
What Skills Do I Need to Become a Computer Network Architect?
Computer network architects need to be highly proficient in systems design. In addition, network architects benefit from having knowledge in related fields such as engineering or finance. Ideal soft skills include being inquisitive, patient, curious, communicative, and methodical.
What Is a Software Developer?
A software developer designs, configures, and builds computer applications and software programs. From search engines to online games, applications are used by everyone, every day. A software developer is the brains behind such tools.
The terms software developer and software engineer are often used interchangeably but they are not the same. In a nutshell, a software developer performs only some of the functions typically associated with a software engineer. The main difference is that while a software developer writes programs, a software engineer creates the tools that make creating those programs possible in the first place.
What Does a Software Developer Do?
Design a building strategy
Write and test a source code
Create compatibility tools for different operating system such as macOS
What Skills Do I Need to Become a Software Developer?
To become a software developer you need to be completely fluent in a variety of coding languages. These include C++, Python, JavaScript, and PHP. Software developers can learn such skills through formal education or online through coding bootcamp programs. There are many online courses and programs available to learn software development.
What Is a Cyber Security Analyst?
A cyber security analyst deals with web and Internet protection. A rising number of businesses and organizations use online platforms to sell products or store essential data and information. There is always the possibility of a cyber threat or a data breach. Cyber security analysis is an in-demand tech skill because companies need these professionals to prevent any potential breach.
What Does a Cyber Security Analyst Do?
Establish the best strategy to build a company's security architecture
Stay up-to-date with laws and regulations regarding privacy and data protection
Monitor potential fault lines within a company's security infrastructure.
What Skills Do I Need to Become a Cyber Security Analyst?
Cyber security analysts need to have strong attention to detail and patience. Typically, cyber security analysts are expected to have a bachelor's degree. It is possible to land an entry-level job in cyber security armed only with an associate degree. Alternatively, many coding bootcamps or online learning platforms provide adequate training for cyber security roles.
What Is a Database Administrator?
Database administrators use software to organize data. Administrators usually work freelance but can also work for big tech companies. Database administrators are responsible for making sure information is easily accessible to clients or companies. They can also be tasked with making sure data is safe.
What Does a Database Administrator Do?
Make sure that data analysts can make use of all data easily
Plan the best security measures in line with the specificity of a company
Basic understanding of software and software maintenance
What Skills Do I Need to Become a Database Administrator?
To become a database administrator you need to be organized, methodical, and communicative. Database administrators are expected to be able to communicate with non-tech professionals. Administrators explain how databases work to an array of individuals.
It is not necessary to have a background in computer science to become a database administrator. There are some courses and online programs designed to help young professionals succeed in the field of database administration.
What Is a Systems Analyst?
A systems analyst has IT efficiency as an end goal. Systems analysts work with companies to offer plans for upgrading IT systems. Tech tools are constantly in need of upgrades. For this reason, systems analysts are in demand to help businesses adapt to new trends.
What Does a Systems Analyst Do?
Assess potential issues with a company's IT system, hardware, and software
Analyze required upgrades
Implement workable solutions
What Skills Do I Need to Become a Systems Analyst?
Systems analysts need to feel comfortable around clients. A capacity to explain complex issues to a potentially non-technical audience is a major requirement. Patience, team-working skills, and business awareness are key to becoming a successful systems analyst.
What Is a Network Engineer?
Network engineers develop, set up, and maintain computer networks. Network engineers are responsible for configuring different network types, such as local area networks, metropolitan area networks, wide area networks, and desk area networks.
These professionals can also be referred to as network and computer systems administrators. Most companies require network and computer systems administrators to have a degree in tech fields such as computer science, information science, or electrical engineering.
What Does a Network Engineer Do?
Design system configurations
Put new system standards in place
Set up firewall mechanisms in line with a company's IT policy
What Skills Do I Need to Become a Network Engineer?
To be a successful network engineer, it is important to have excellent communication skills. Network engineers are often expected to liaise with clients and other tech professionals. Additionally, network engineers need to be comfortable with working in teams and have a keen eye for detail.
What Is a Computer Support Specialist?
These technology professionals help clients or businesses resolve any tech-related problems. Support specialists are well-versed in general computer software and hardware. Computer specialists are also expected to be able to solve issues with operating systems and peripheral tech equipment.
Computer support specialists are generally classified into two groups: computer network support specialists and computer user support specialists. While the former works with the IT staff of a company to fix any issue with the systems, computer user support specialists, also known as desk techs, help customers and non-technical employees.
What Does a Computer Support Specialist Do?
Help clients solve issues via telecommunication
Troubleshoot issues regarding local area networks and wide area networks
Run diagnostic tests on IT networks and systems
What Skills Do I Need to Become a Computer Support Specialist?
To become a successful computer support specialist, you must be very comfortable working with others. Support specialists spend most of their time helping clients solve technical issues. In addition, it is advised to be attentive to detail and attentive to clients' needs and expectations.
What Is a Graphic Designer?
A graphic designer is someone who creates visual concepts and animation using computer software. Graphic designers often freelance but can also be employed by big tech companies. A graphic designer often comes from an artistic background, although coding knowledge of languages like HTML can be beneficial for their careers.
As a graphic designer, you can transition with relative ease to other exciting jobs in the tech industry such as user experience (UX) and user interface (UI) design.
What Does a Graphic Designer Do?
Work in large teams to establish design strategies
Design logos, web page illustrations, advertising campaigns, and 3D models
Decide which colors, textures, and styles are the best fit for a project
What Skills Do I Need to Become a Graphic Designer?
Graphic designers often have a background in fine arts, but there are also graphic designers with little artistic talent. Graphic design is first and foremost a technical skill. If you master tools such as Photoshop or InDesign, you are well suited to become a graphic designer. Soft skills typically include creativity, enthusiasm, and confidence.
How to Get a Tech Job with No Experience?
It is possible to land a tech job with no experience. There are many online resources and pathways to help you land the perfect job in the technology sector. The first step would be to choose a particular field that interests you. There are plenty of platforms, such as YouTube, with free online resources that offer a great starting point.
Online learning platforms like Coursera, edX, and Udemy are also great learning tools for beginners. Online learning platforms also offer free courses that can be completed remotely, from the comfort of your own home. Once you have a broad understanding of a particular topic, it is highly recommended to complete a full online course or program.
Many coding bootcamps offer online or in-person courses in almost all tech fields. Coding bootcamps can last anywhere between four to 24 months. Bootcamps provide certifications. They are also a great way to upskill very fast and join the ranks of the top tech talent.
Of course, you can always follow the traditional route to a career in tech: pursuing a degree program. Most tech professionals working today have college degrees. While an associate degree will serve you well for many entry-level technology occupations, most junior technology jobs require at least a bachelor's degree.
Finally, the best way to start a tech career is to pursue a short internship at a relevant company. Tech companies often offer short internships to enthusiastic students or young professionals. This is the perfect way to enter the job market and begin a lucrative career in tech. With demand for tech hiring on the rise, it is also one of the wisest life decisions you'll ever make.
What do technology jobs pay?
The tech industry boasts a very high annual wage. According to the US Bureau of Labor Statistics (BLS), the annual wage for computer and information technology occupations was $91,250 in May 2020. This is much higher than the median annual wage for other occupations, which stands at just under $42,000. There are many other careers in tech that pay high wages. In fact, most technology jobs offer very competitive salaries.
Which tech positions pay the most?
The tech job with the highest salary is digital marketing manager followed by data scientist. According to the US Bureau of Labor Statistics (BLS), the annual wage for a digital marketing manager is $141,490, while data scientists make $126,830 a year.
How much does a product manager in the tech industry make?
According to Payscale, a product manager working in the software industry earns an average of $98,489. An experienced product manager can earn over $120,000.
What are the most in-demand technology careers?
Cyber security professionals, software engineers, and data scientists are some of the technology jobs with the brightest job outlook. Demand for these technology professionals in the next decade will rise by 31 percent, 22 percent, and 15 percent respectively.