Online Information Technology Degrees Explained
Information technology (IT) is an important part of any business's daily operations. An online IT degree can lead to a long and successful career. When working towards an IT degree online, you'll study different operating systems and real-world network security cases.
This profession includes many diverse roles across network and systems administration and requires strong attention to detail. IT programs will give you the wide range of training and knowledge you'll need to succeed in this field. Read below to learn more about online information technology degrees.
Online Information Technology Degree: An Overview
In this article, we'll cover the best degrees to launch your career, job prospects, accreditation, tuition costs, and more. In IT, much like other tech fields, your career path will depend on your education. We'll explain some of the most popular certifications and tips for gaining admission into a good program.
We'll also look at the jobs that people who graduate with these degrees usually go on to get. Below are a few basic facts that we'll cover in the article to let you know what to expect after earning an IT degree.
The median annual wage for computer and IT occupations is $91,250, according to the Bureau of Labor Statistics (BLS).
BLS also predicts job growth in this field of around 11 percent by 2029, higher than the national average of four percent across all occupations. This means there will be a higher number of job opportunities.
Industry certifications from organizations like Google and Amazon can help you earn a higher salary.
A four-year bachelor's degree will increase your earning power, but a two-year associate degree will get you started in the field faster. Many employers will pay for you to continue your education if you opt to get an associate degree first.
What Is an Online IT Degree?
An online IT degree is an award granted by an accredited college or university. This degree shows that the recipient is qualified to solve a variety of IT problems for businesses and other organizations.
To earn this degree, you'll study a range of topics, including computer programming, networking and databases, information security, and more. As you work through your program, you'll usually specialize in one aspect of IT, like information systems management, software engineering, or cyber security.
In most cases, online IT degree programs offer the same curriculum as in-person degrees. They also offer more scheduling flexibility. If you're worried about your finances and would prefer to work while in school, online learning may be an easier option.
Online IT Degree Curriculum
There are a lot of things you'll need to know before working in IT. You'll have to know how to make sure each machine works as intended and that the system is secure. You may also need to learn the leadership skills required to steer tech departments of different organizations.
Networking is the act of building and maintaining computer networks, including their hardware, software, and more. These network connections can be physical or carried out over the cloud.
Most IT bachelor's degree programs include at least six credit hours on networking, so you can cover this course in one or two semesters. But if you choose to specialize in networking, then you may spend up to 12 or 15 credit hours on this topic.
Cyber security is the act of keeping a computer network, and all of the information contained within, safe from unauthorized access. This field concerns both the networking and data management aspects of IT.
A bachelor's degree program will include at least six credit hours on topics like best practices with tech, the latest cyber security countermeasures, risk assessments, and more.
Information systems management is a field where IT specialists ensure that tech departments are operating smoothly. This is an important topic to learn if you're interested in entering a leadership position.
This field requires more study than other aspects of IT, as you'll need to know how to do everything to manage everyone properly. After your general IT training, you'll usually study information systems management for 12 to 15 hours as part of your degree program.
There are three common degrees that IT professionals usually earn before they find their first job. These degrees are a two-year associate degree, a four-year bachelor's degree, and a master's degree, which can vary in length depending on the program.
IT Online Associate Degree
An associate degree is the fastest way to start working as an IT specialist. You can earn an associate degree in around two years and start working immediately after you've finished. They're also less expensive than bachelor's degrees.
However, there are a couple of drawbacks to associate degrees. With the shorter course length, you won't be able to cover the material in as much depth as a four-year program. You also will not earn as much per year in most cases.
IT Online Bachelor's Degree
A bachelor's degree gives you more room to grow when starting an IT career. You'll usually come in with a higher salary and have an easier time getting promotions than someone with only an associate degree.
However, while you'll graduate with deeper knowledge and a higher earning potential, you'll do so at a higher cost. Bachelor's degrees are more expensive than associate degrees because they last longer. You can lessen the cost by earning an associate degree first and then applying those credits towards a bachelor's degree.
IT Online Master's Degree
After you've worked in IT for a while, you can advance your career with a master's degree. In these programs, you'll specialize in one field to develop subject expertise. These degrees allow you to enter the highest ranks of IT jobs.
You can only apply for a master's degree program after you've earned a bachelor's degree. Master's programs usually last anywhere from one and a half to two years. However, some schools offer combined programs where students can work on a bachelor's and master's degree at the same time.
How to Get Into an Online IT Degree Program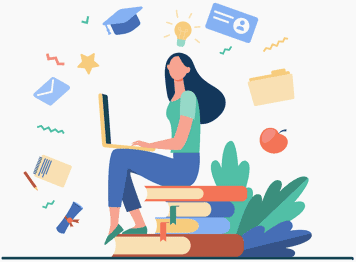 Admissions requirements vary depending on which school and level of degree you're applying to. Below are some general guidelines on how to apply.
Community College Admissions
Community colleges generally require first-time students to complete an application, apply for financial aid, submit their high school transcript, and take a placement test like the ACT or SAT.
Some community colleges allow students to start working towards their associate degree while still enrolled in high school. Many community colleges also often have partnerships with local universities where credits are guaranteed to transfer completely. This can make things easier for students who know they'll be getting a bachelor's degree.
Many four-year universities have more strict academic requirements for first-time college attendees. Universities also tend to value extracurricular activities that show applicants are well-rounded admissions candidates.
Students must generally complete college preparatory courses at their high school before applying and follow the same steps as needed to apply to a community college.
However, many universities have moved to a test-optional model. As many students may not be able to take the SAT or ACT due to COVID-19 restrictions, test-optional universities are making admissions decisions for the upcoming school year based on previous performance in and outside of school.
Graduate School Admissions
Graduate schools can have more variance between admissions requirements than community colleges and universities. They all require an application, and most require students to take an entrance exam like the Graduate Record Exam (GRE). Some also require letters of recommendation and interviews.
Much like universities, several graduate schools are following a test-optional model for the next school year. However, you'll still need to present a well-rounded picture to stand out to the admissions committee at your school of choice.
Online IT degrees are typically more affordable than in-person degrees. These costs can include fees and hidden costs like room and board, supplies, and more. However, tuition can still be expensive wherever you go. Take a look at the financing options below to see how you can save money.
Scholarships are awards granted to a student to help them pay for their education. These awards can be issued by a school or an outside organization, and they can be one-time or recurring.
Schools award scholarships to students based on academic performance or family income. Private scholarships can be awarded based on a variety of factors depending on the individual or organization issuing them. Students can earn scholarships at any level of education.
Student loans are a form of financial aid where the federal government or a private lender gives students the funds they need to pay for their education. The difference between student loans and a scholarship is that loans must be repaid with interest.
Students who plan to take advantage of federal student loans and grants will have to fill out the Free Application for Federal Student Aid (FAFSA) form. Many schools also require applicants to submit a FAFSA before they'll consider awarding them a need-based scholarship. Student loans are also available at all levels of education.
Online College Accreditation
Accreditation is a stamp of approval that proves a school conforms to the academic standards of a legislative body. This stamp guarantees that students who attend a school have received an education that meets these minimum standards.
Accredited degrees must be recognized by the Department of Education and the Council for Higher Education Accreditation.
National accreditation is less prestigious than regional accreditation. Most nationally accredited schools are for-profit and they offer vocational or religious training. However, just because a school is nationally accredited doesn't mean it's not worthwhile.
National accreditation organizations often focus on specific disciplines, like the Council on Occupational Education, the National Accrediting Commission of Career Arts and Sciences, and the Association for Biblical Higher Education.
Most regionally accredited schools don't accept as many transfer credits from nationally accredited schools. Because these programs can be less academically rigorous, you may learn less but these programs usually cost less too.
Regional accreditation is the most common and prestigious form of accreditation. Because these legislative bodies focus on a specific region instead of the entire country, they can investigate each institution more thoroughly.
Regional accreditation organizations supervise institutions in different regions of the country. For example, the New England Association of Schools and Colleges (NEASC) is in charge of schools in Connecticut, Maine, Massachusetts, New Hampshire, Rhode Island, and Vermont.
Because the agencies tend to have stricter academic standards for accreditation, these schools tend to be more expensive while providing higher quality education.
Information Technology
Job Prospects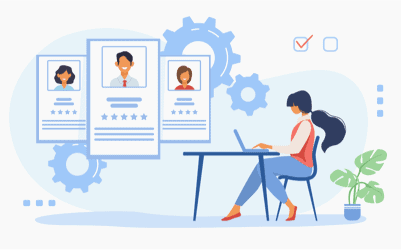 As mentioned above, the job prospects in IT are quite promising. Tech jobs are gaining popularity as more and more companies focus on strengthening their online offerings.
Companies are growing internal teams in fields like software development, data analytics, artificial intelligence, and more. These organizations need professionals that can connect all of these departments, ensure their hardware works as intended, and keep all of their information safe.
There are many different specializations for IT professionals in numerous fields, and some are growing faster than others. For example, BLS expects software development to add 316,000 jobs by 2029 compared to 8,000 more jobs for computer network architects.
Regardless of where you land, BLS reports a median starting salary of around $55,510 at the lowest, with IT graduate salaries going up to $126,830. Your job prospects and salary expectations will change depending on your area, degree level, level of experience in the field, and more.
Computer and IT Median Salary: $91,250
Computer and IT Job Growth: 11%
There are plenty of different job opportunities for people who choose to take an IT degree. Your education and specialization will determine your career path.
Networking specialists commonly work as network architects, cyber security specialists commonly work as information security analysts, and management specialists can start as support specialists. Read below to learn more about these IT careers. All information has been sourced from the Bureau of Labor Statistics.
Network architects look at the network needs of an organization and design the architecture to support their business operations. Most often, this requires building and maintaining secure networks that work just as well locally as they do globally.
Network architects have to strategize around a project's hardware and software needs. If you enjoy planning projects and building something tangible, this can be a rewarding field after graduation.
Network Architect Median Salary: $116,780
Network Architect Jobs Available: 160,100
Information Security Analyst
Information security analysts defend a network's information from unauthorized users. Cyber security experts install preventative measures like firewalls and encryption programs while also actively monitoring systems for breaches. They also regularly test systems to ensure protective measures are working properly.
These analysts also help everyone in a workplace understand the role they play in cyber security. If you think you'd enjoy keeping personal information safe, there's space for you in the industry.
Information Security Analyst Salary: $103,590
Information Security Analyst Jobs Available: 131,000
Computer Support Specialist
Computer support specialists carry out many duties that help the tech side of an organization run smoothly. They test networks and help people troubleshoot their connections on an individual basis. They also help with non-network problems that users may be having with their machines.
This is a good entry-level job for those with eyes on managerial roles down the line, as they can learn everything about an organization's tech structure and how users at an organization think. If you enjoy helping people and want to manage a department in the future, this could be the job for you.
Computer Support Specialist Salary: $55,510
Computer Support Specialist Jobs Available: 882,300
Best Information Technology Jobs
| Title | Median Salary | Entry-Level Salary | Mid-Career Salary | Late-Career Salary |
| --- | --- | --- | --- | --- |
| Computer and Information Research Scientist | $126,830 | $76,902 | $85,136 | $100,194 |
| Network Architect | $116,780 | $82,500 | $113,213 | $130,398 |
| Software Developer | $110,140 | $63,226 | $83,095 | $98,168 |
| Information Security Analyst | $103,590 | $60,307 | $82,685 | $105,057 |
| Database Administrator | $98,860 | $56,050 | $79,008 | $98,985 |
| Computer Systems Analyst | $93,730 | $56,879 | $71,213 | $85,048 |
| Computer Support Specialist | $55,510 | $41,039 | $49,284 | $54,744 |
IT certifications are awarded by trusted organizations to people who show mastery of a certain subject. Some organizations may require applicants to have certain certifications to qualify for certain positions. Many organizations will pay for employees to take certification programs.
Google Professional Cloud Architect
Google's Professional Cloud Architect certification shows that the recipient can build and maintain scalable and secure solutions for businesses on the Google Cloud Platform.
For network architects, this certification shows that you have no problem tailoring cloud solutions for a business. Different organizations have different preferences for their cloud architecture, so you may end up pursuing a similar certification from Amazon Web Services or Microsoft.
This is the most fundamental CompTIA certification for cyber security professionals. Throughout the exam preparation course, you'll learn the basics of threat analysis, installing systems, and keeping networks and devices secure.
If you're going to work as an information security analyst, this is one of your first steps. You can expand on the skills taught in this course in more advance CompTIA programs, but this certification shows potential employers that you're a competent worker.
This CompTIA certification focuses on more general IT skills. During the exam process, you'll touch on all fields including cyber security, configuring devices, troubleshooting problems, and basic networking.
Though this may seem like a lot of topics to cover, you'll be doing it throughout two exams. With a generalist certification like this, you'll have no problem landing a computer support specialist position.
IT Professional Organizations
After you've earned your degree and started working in the field, you may decide to join an IT professional organization. These organizations can help you deepen your understanding of your field through mentorship opportunities while also opening up your career path through networking opportunities.
CompTIA IT Pro and Certified Membership
CompTIA is a leader in the IT educational space. This educator offers three membership tiers to serve IT professionals at all stages of their careers. These are basic student, certified, and professional membership.
Basic student membership is free, and it offers a discount on CompTIA products. Students can also attend CompTIA events to help them decide if they want to pursue a career in technology. With the other membership tiers, you gain deeper discounts and wider access to the workforce community and labor market information.
Association for Women in Computing
The Association for Women in Computing (AWC) was founded in 1978 as one of the first professional organizations for women who work in IT. This organization offers mentorship, professional networking, and continuing education opportunities for women in tech.
If you're looking for an organization that will help you navigate the unique challenges that women face in the tech world, this is it. Through scholarships, newsletters, and leadership training skills, the AWC is opening plenty of doors for women around the country.
Association for Computing Machinery
This is the largest computing society around, with around 100,000 student and professional members around the world. Active since 1947, this organization issues publications, hosts special interest groups on computing topics, and more.
If you want to connect with IT supporters ranging from enthusiasts to tech pioneers, this is the organization for you. With a worldwide user base, there are endless possibilities for where this organization may take you.
Benefits of Earning an Online IT Degree
An online IT degree allows you to join a growing job market while working on your own schedule. Whatever your preferred learning style, there's an option for any specialization you may be interested in.
You can study the program of your choice from wherever you like. You may also save money, as many online degree programs are less expensive than in-person counterparts.
If you're busy with work, family, or other commitments, and you want to switch careers into a market with no signs of slowing down, an online information technology degree may help you.