Online Database Management Degrees Explained
If you want to enter the growing field of database managers and administrators, the first step is to earn a degree. For those who live busier lives, earning a degree online is becoming more and more common. There are plenty of options for online database management degrees that let you have control over your schedule.
If you are thinking about earning your database management degree online, you have come to the right place. In this guide, you will find everything you need to know to decide if database management is the right path for you.
Online Database Management Degree: An Overview
In this guide, you will find the answers to all of your questions about online database management programs and degrees. You will learn what exactly a database management degree is, the differences between degree levels, and how to get accepted into a program.
We cover top database management careers, like database administrator, data architect, and more. You will learn all the information you need to decide if this path is right for you. Read below to learn more basic facts about online database management degrees.
What Is an Online Database Management Degree?
An online database management degree is an online program that can teach you data and information technology skills. During your degree, you'll study the subjects necessary to work as a database manager and administrator. You can study completely online.
Earning an online degree offers students flexibility in their learning schedules and provides the same education as an on-campus degree. Students learn from a wide range of teaching methods, including pre-recorded or live video lectures, assigned readings, and presentations.
Online Database Management Degree Curriculum
The curriculum for an online database management degree will focus on topics such as programming, designing and implementing databases, and key database concepts. It is typically the same as the curriculum for on-campus database management degrees.
Learning programming skills helps prepare students for work as a database manager or administrator. You'll need to learn how to program in the languages most commonly used in the field.
Though the programming languages and skills taught may vary by degree program, the most common language to learn is SQL. Students learn how to use SQL to build databases, write various program packages, and perform important debugging procedures.
Designing and Implementing Databases
Though it may not be required for all jobs, it is fairly common for database managers to design and implement their databases for their employer's organization. Your degree will teach you this process from start to finish.
One of the more general subjects your program will include is database concepts. You will study the basics of different kinds of data, datasets, and how data can be arranged. Some programs branch into data warehousing, which is the system used for reporting and analysis of data.
Database concepts will also teach you how to use database reports to structure databases. Students will use these skills to build tables, columns, and create normalized databases to manage.
Online Database Management Degree Types
There are a few different types of database management degrees you can earn. You can get an online associate degree, bachelor's degree, or even a master's degree. The career you want to pursue will help you determine which degree type is right for you.
Database Management Online Associate Degree
An online Associate Degree in Database Management is the lowest level degree you can earn. These degrees are typically earned as precursors to higher-level degrees, though you may be able to apply for entry-level positions.
Usually, an associate degree takes around two years to earn, though online degrees can often move faster than this. You will have to complete around 60 credit hours to earn this degree.
Database Management Online Bachelor's Degree
An online Bachelor's Degree in Database Management will make you eligible for most database management careers. Typically, employers look for a bachelor's degree or higher. Earning a Bachelor of Science in Database Management can improve your employability.
In order to earn a bachelor's degree, you will need to study for about four years. Some programs take less or more time depending on the curriculum. Typically, bachelor's degree programs consist of around 120 credit hours or roughly 40 required courses.
Database Management Online Master's Degree
During a Master's Degree in Database Management, you'll study topics in further detail, improve your problem-solving skills, and make yourself even more desirable to potential employers. If you are interested in a higher level of education, an online master's degree is the way to go.
You will need to have earned a Bachelor's Degree in Database Management or a similar field before applying for a master's degree program. These programs vary by school, but you will likely be required to complete an additional 40 to 60 credit hours of studying to earn the degree.
How to Get Into an Online Database Management Degree Program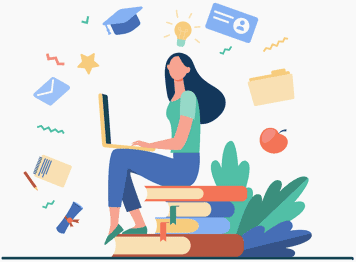 The way to apply for an online database management degree differs between community colleges, universities, and graduate schools. Getting into an online database management program is usually a straightforward process.
Community College Admissions
For an online program at a community college, you will need to complete an online application. Include your education history, any achievements, and any relevant work or volunteer experience.
Community colleges are great starting places for your education. Most community colleges only offer general education courses and associate degree programs, which is perfect for those just beginning their database management education and careers.
If you choose to begin your database management education at a university, you'll need to meet the required GPA for that university and fill out an online application.
Universities can also be the next step after community college. For those who want to transfer from a community college, you will need to work with your academic advisors and admissions counselors to confirm which credits will transfer over to your program.
Graduate School Admissions
To apply for graduate school, you will need to provide your school of choice with your official transcripts, completed degree in a related field, and a GPA usually of 3.0 or higher. Graduate schools are the toughest to get into, especially if you are pursuing an online program.
Many graduate schools also require students to include a short essay or letter about why they want to study in the program they chose. You may be asked to provide your resume and a cover letter as well, though this varies depending on school and program.
Online Database Management Degree Cost
Sometimes, online degrees can be less expensive than in-person programs. You can avoid paying student activity fees, transportation costs, and more. The cost of an online degree varies depending on degree level, school, and program, but there are a few financial aid options available for all online degrees.
Scholarships are one of the most popular and common ways to fund your education. There are different types of scholarships that offer grants, tuition coverage, and even living stipends.
You can easily find scholarships for your chosen degree program by consulting with your school's financial aid department or your academic advisor. Apply for all scholarships that you are eligible for so you have the highest chance of winning one.
If you are interested in pursuing an online database management degree but the cost is a concern for you, we suggest researching your student loan options. A school, bank, or loan company can provide you with the money you need, and you can pay it back with interest.
While doing your research, keep in mind that the first options you see may not be the best options for you. There are low-interest loan providers you can look into, and many will work with you to make payments a breeze.
Online College Accreditation
Make sure your online degree comes from an accredited college. This proves to future employers that your degree is recognized as being of a certain quality. Some employers are hesitant to hire those with online degrees, but accreditations show that you learned the same subjects as those with in-person degrees.
National accreditation is an accreditation given by national agencies, most commonly to vocational schools, trade schools, and community colleges.
The schools and institutes that earn a national accreditation are compared to other schools to determine if their programs are at or above the expectation. Both individual programs and entire educational institutes can receive accreditations.
Though national accreditation is fantastic, it is usually limited to specific types of educational institutes. If you are searching for a nationally accredited master's degree program, you're not likely to find one. Nationally accredited associate degrees also don't always allow you to transfer to a regionally accredited bachelor's degree.
Regional accreditation tends to focus more on state-owned or nonprofit colleges within their region. There are six regional accreditation agencies in the United States, each managing the accreditation process for its specified region of the country.
When you are pursuing a bachelor's degree or higher, you will likely be researching colleges and universities that will have regional accreditation. It is important to research what region your potential school is in and if it has accreditation or not.
Regional accreditation is one of the most strict accreditations to earn, and it is quite prestigious. If your goal is to earn a valuable education and impress future employers, make sure your school or program is regionally accredited.
Database Management
Job Prospects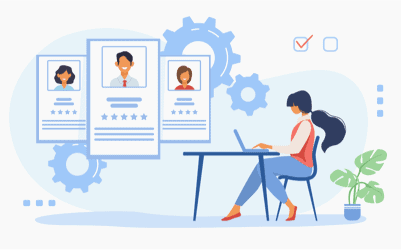 According to BLS, the field of database administration is expected to grow 10 percent by 2029. Compared to the average growth of four percent for all occupations, this is significantly faster. This means there will be many more job opportunities in the coming decades.
Database Management Salary: $98,860
Database Management Job Growth: 10 percent
Database Management Degree Jobs
The most common jobs you can get with a database management degree include database administrator, information security analyst, and even software developer. There are many more jobs in the field, but these three are good examples of what you can achieve.
Though becoming a software developer is usually not the first thing you would think of with a database management degree, it is a worthwhile option. According to BLS, the field is expected to grow 22 percent by 2029, meaning software developers will be in very high demand.
Working in this type of job, you would be responsible for the design, creation, and implementation of various software. With a database management degree, you can combine your skills to make database-related software for various organizations.
Software Developer Salary: $110,140
Software Developer Jobs Available: 1,469,200
Information Security Analyst
Information security analysts use a combination of database management, computer science, and cyber security skills to ensure an organization's systems are secure. With the growing threat of cyber attacks, it is no surprise to see the predicted growth of this career being 31 percent in the next decade.
As an information security analyst, you would be required to keep an eye on networks and systems for security breaches, create security policies and practices for the organization, and help employees understand safe network practices.
Information Security Analyst Salary: $103,590
Information Security Analyst Jobs Available: 131,000
Database administrators typically help businesses with sensitive data. They use specific software and databases to collect, organize, and securely store data that can be easily accessed by those who need it and safely secured from breaches.
Some of the duties you can expect to have as a database administrator include keeping data secure, ensuring data is backed up and can be restored, and helping organizations merge their old databases with newer ones.
Database Administrator Salary: $98,860
Database Administrator Jobs Available: 132,500
Best Database Management Jobs
| Title | Median Salary | Entry-Level Salary | Mid-Career Salary | Late-Career Salary |
| --- | --- | --- | --- | --- |
| Data Architect | $121,210 | $68,690 | $111,490 | $134,606 |
| Senior Database Administrator | $110,096 | $86,692 | $101,495 | $117,696 |
| Research Analyst, Operations | $78,219 | $60,360 | $88,306 | $120,992 |
| Database Administrator | $73,337 | $56,050 | $79,008 | $98,985 |
| Data Analyst | $61,593 | $56,218 | $69,058 | $73,757 |
| Market Research Analyst | $54,749 | $49,777 | $64,464 | $65,000 |
Database Management Certifications
There are three certifications in database management that are particularly desirable to employers. Earning certifications pays off because it shows employers you have developed a recognized level of understanding of a certain topic.
IBM Certified Database Administrator
IBM is well known for being a world leader in database markets, so it is no surprise this certification is highly desired. This certification can be earned by those who work with Linux, Unix, or Windows.
To earn this certification, you will need a basic understanding of routine database administration, knowledge of SQL, and database creation skills. It is described as an intermediate certification. The exam costs $200 to take.
Oracle Certified Professional MySQL Database Administrator
Oracle offers several certifications you can earn to aid your database management career. One of the most popular is the MySQL Database Administrator Certified Professional.
You will need to be well versed in using MySQL to install and optimize servers, as well as to configure databases. The certification is earned after passing one exam, which costs $245 to take.
Oracle Database 12c Administrator Certified Professional
Another Oracle certification that will impress potential employers is the Oracle Database 12c Administrator Certified Professional. This certification shows employers you are skilled at using the universal Oracle Database and its technology.
This certification will demonstrate your capabilities to use embedded database technology, Oracle software, and cloud computing. You will have to pass one exam to earn this certification, which costs $245.
Database Management Professional Organizations
There are a few professional organizations out there for those interested in database management. Some are international and operate in hundreds of countries, while others are smaller. All of them can benefit you in some way.
DAMA International describes itself as the global data management community and is dedicated to helping people become certified database management professionals. The organization gives out various awards throughout the year and provides help with training and certification tests.
You can join DAMA International by registering online with a fee of $50 per year. You then need to contact your local DAMA International Chapter to seek local membership as well.
Association for Women in Computing
The Association for Women in Computing is a smaller organization that only operates in the United States. The organization, though not specifically for database management, was developed to assist the advancement of women in varying computer-related fields.
This organization helps members by providing networking opportunities as well as technical and career-related programs. You can join your local chapter by reaching out to them and paying the annual fee of $31 to $100, depending on location. Alternatively, you can become an independent member for $25 per year.
The EDM Council describes itself as the global association created to help increase the use of database management as a business practice. This organization has set a precedent for data standards and best practices training and certifications.
There are quite a few options for membership you can choose from, ranging from $2,750 per year to $37,500 per year. This is an organization typically joined by businesses, in which all full-time employees of the business are given membership benefits.
Benefits of Earning an Online Database Management Degree
Earning an online database management degree is a fantastic first step to building a career in the database management field. Whether you are pursuing a job as a database administrator, market research analyst, or data-centric software developer, this will get you in the right direction.
Online degrees provide students with freedom over their scheduling. You can also save money on transportation and related expenses. As long as the degree you earn is accredited, future employers will recognize it as they would an on-campus degree.
Earning an online database management degree opens the door to a variety of career opportunities. If this is a path you are considering, we recommend applying to a few top programs and getting started on your online database management degree today.