Online Web Development
Degrees Explained
Pursuing a web development degree online could be your first step towards finding a rewarding career in tech. Web developers create web solutions to promote business. They work in organizations of all sizes and are even hired by some government agencies.
You can find online web development programs at many universities and colleges. Some also have hybrid programs where students can attend classes online and in person. Read below to learn more about online web development degrees.
Online Web Development Degrees: An Overview
Do you want to get an online web development degree? This guide will cover everything you need to know about these programs. You will learn about the curriculum of the web development programs, the types of available degrees, and academic accreditation.
This guide will also cover the job prospects of a web development career. We highlight the salary potential from entry-level positions to late-career salaries. Below are some important facts to note before choosing to get an online web development degree.
According to the Bureau of Labor Statistics (BLS), the median salary of web developers is $77,200 per year.
The BLS also reports that employment in this field is also expected to grow by eight percent, which is much faster than average.
As retail firms continue to expand their ecommerce offerings, this demand will keep rising.
Associate degrees are the usual minimum requirement for this profession.
What Is an Online Web Development Degree?
Online web development degrees train students to design and create websites. Students learn how to design a site's visuals. Depending on the particular program, students who want an online degree in web development may work on design theory, coding languages, mobile programming, cyber security methods, and the basics of IT.
The programs take place online and may include hands-on training and theoretical coursework to give students a balanced learning experience.
Some classes are live, while others are pre-recorded. It depends largely on the school. Exams can also be taken online. Most programs include a final capstone project as a graduation requirement.
Online Web Development Degree Curriculum
To secure a degree in web development, there are some crucial courses you must cover. These courses introduce you to the challenges you might face in the profession. Listed below are some of the common topics you'll encounter in an online web development degree.
Web development degrees often have an introductory course that helps lay a solid foundation of different programming concepts. This course describes the job functions of web developers and how the Internet works.
Students may also complete a project to show how well they understand basic programming skills. However, this depends on the program. These projects are part of the portfolio of the student and can be part of a strong resume.
Mobile Computing and App Development
This offers a broad look at mobile computing and app development. Students learn about the different kinds of mobile devices and computers. The course also compares native applications to web-based applications. It covers methods of transport and internet protocol for different mobile apps.
The course also develops the technical analysis skills of students so they can apply them to different target platforms. Students will learn to develop apps for browsers, devices, and operating systems. They also cover software and web development skills.
This course covers the fundamental concepts needed for the use, design, and implementation of database administration. It stresses the fundamentals of the design and modeling of databases and techniques for implementing database systems. It also covers facilities and languages for database management systems.
During the course, students learn to use SQL for manipulation, control, and creation of databases. It also covers indexing and data storage options. Students also learn to perform query optimization. The course covers how the client/server model works. It also describes the main components of internet database environments.
Online Web Development Degree Types
There are three main degree types for those seeking an online web development degree. They include associate degrees, bachelor's degrees, and master's degrees.
Web Development Online Associate Degree
Community colleges provide associate degrees in most cases. This degree takes around two years to finish for full-time students and requires around 60 credits. It is usually a pathway into web development. Other IT professionals who intend to specialize or change careers can also use this method.
Graduates from community colleges can pursue different entry-level positions in web development, IT, and web design. There is an option to transfer to a university for a bachelor's degree in a related field.
Web Development Online Bachelor's Degree
This degree is offered by universities and it takes four years to complete for full-time students. It typically requires 120 credits to graduate. The degree is also suitable for high school graduates, professionals in other fields, and IT workers searching for a new career.
Graduates of an online web development bachelor's degree can work in different fields. They can also specialize and increase their earning potential. An online bachelor's degree can pave the way for a master's degree in the same field.
Web Development Online Master's Degree
Most online master's degrees require 30 to 60 credits to complete. They are usually completed in one to two years for full-time students. The best students for the degree are experienced professionals who want to increase their skills and expertise and salary potential.
Students in these programs come from undergraduate programs that are related to web development. At the end of an online master's degree program, students may be required to write a thesis or complete a capstone project.
How to Get Into an Online Web Development Degree Program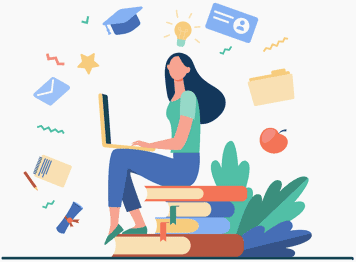 The admission process of online web development programs is not set in stone. Different schools have different processes for admission. However, some of the requirements for admission are often the same.
Community College Admissions
Admission to most community colleges includes your education history and personal information. You may also need to submit educational credentials such as transcripts and high school diplomas.
To some extent, standardized test scores such as the ACT, SAT, or TOEFL may be used to check your English proficiency level or academic ability. However, such tests are not required in many cases. You may be able to gain admission without taking standardized tests.
Most universities consider the GPA of an applicant before granting admission. The GPA of a student shows how well they performed in school and gives the admission committee a new perspective aside from standardized tests. Most online Bachelor's Degrees in Web Development require applicants to have a GPA of 3.0.
Other programs may require the applicant to submit a letter of recommendation alongside their application. It is ideal to gather these letters from people who can recommend you before applying to the school. The best people for this process are academic advisors and former teachers.
Graduate School Admissions
To gain admission into a graduate program, applicants must already have a bachelor's degree from an accredited university. Some programs may require results of standardized testing, but it is highly unlikely for online programs.
The degree may also require a high GPA and an application. Applicants may need to have studied a related course at the previous level. This can be bypassed in some programs by taking additional courses to make up for it.
Online Web Development Degree Cost
The cost of online web development degrees varies by location, school, and program length. However, public schools are generally cheaper than private institutions. Schools in rural areas may be more affordable than those in urban cities.
The fees for online learning are cheaper, and students enjoy maximum value for their money. The programs often have accelerated coursework so they can finish as soon as possible.
Online web development programs also offer scholarships to students. There are need-based and academic scholarships. Low-income families may also be eligible for some scholarships. In many tech programs, there are exclusive scholarships offered to women and other minorities in tech.
There are some requirements for eligibility. Some are offered to only US citizens, while others are offered to students with a high GPA. Scholarships can cover tuition, fees, and even living expenses.
Students in online web development programs can finance their degrees through loans from the state or federal government. One option is the Free Application for Federal Student Aid (FAFSA). This is the most popular grant and loan program in the US.
Online College Accreditation
It is ideal to attend only institutions that are accredited. Choosing the best accreditation type for you depends on other factors. Do you want to transfer credits in the future? Does your employer prefer a certain kind of accreditation?
National accreditation agencies focus on providing accreditation for trade schools and vocational programs. Career programs are also a part of their jurisdiction for some certifications and degrees.
These institutions have a specific focus, and this makes them less standardized than traditional accredited schools. They are usually reviewed after three to five years. Many of these agencies are recognized by the Department of Education, and they are not restricted to a geographical location.
The significant difference between both national and regional accreditation is that the latter is commonly accepted. It can also easily transfer credits compared to nationally accredited programs.
Generally, regionally accredited universities in the United States are geographically restricted, and most online programs do not use them. Regionally accredited schools are nonprofit, state-owned institutions.
There are six primary regional accrediting agencies. These include the Higher Learning Commission, Middle States Commission on Higher Education, and Western Association of Schools and Colleges.
Older and respected institutions are mostly regionally accredited. The status means that the schools meet the minimum standard requirements.
Web Development
Job Prospects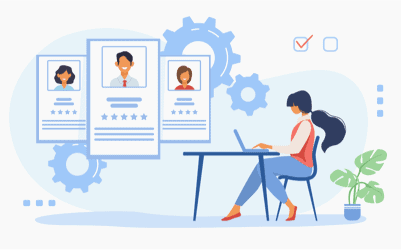 It is not a surprise the web development industry continues to grow at a steady pace. According to the BLS, the web development field can expect eight percent job growth between 2019 and 2029. This means that there will be considerably more job opportunities as the decade continues.
The BLS also reports that the median salary of these experts is $77,200 per year, and it is still expected to increase as their demand rises. Ecommerce is another factor that could impact the growth of the profession.
Web Developer Salary: $77,200
Web Developer Job Growth: 8%
Web Development Degree Jobs
Web development is a broad field. There are a lot of jobs you can do with a web development degree. You can work as a web designer, web developer, app developer, or even a game developer. The degree gives you a foundation in development, and you will be able to thrive in most tech-related positions that require programming.
System managers are responsible for coordinating computer-related activities within organizations. They analyze the needs of the computer systems, keep networks secure, plan hardware maintenance, and manage other professionals under them.
These experts also work as project managers in some cases. They oversee different IT-based projects. It could include implementing a new system, training new employees, or creating a record-keeping system. Some main skills needed by the experts include IT management, SQL, and IT support skills.
Systems Managers Salary: $151,150
Systems Managers Jobs Available: 461,000
Computer programmers are responsible for writing code that apps and computer programs run with. These experts test the programs created by software engineers and check for bugs.
The professionals are also responsible for debugging if any bugs are discovered during the testing process. They should also have some cyber security skills to protect programs against threats from hackers and unauthorized persons. They often have JavaScript, Java, C#, and UNIX skills.
Computer Programmers Salary: $89,190
Computer Programmers Jobs Available: 213,900
Web designers are responsible for creating websites for different clients. They work for companies or individuals. They focus on the front end of web development. Developers that handle both sides are known as full stack developers. These experts write codes for websites to make them work smoothly.
They also act as webmasters and offer troubleshooting, maintenance, and updates for websites. Almost every industry needs web developers. They benefit from HTML, CSS, SQL, and JavaScript skills. The data below has been sourced from the BLS.
Web Designer Salary: $77,200
Web Designer Jobs Available: 174,300
Top Web Development Degree Careers
| Title | Median Salary | Entry-Level Salary | Mid-Career Salary | Late-Career Salary |
| --- | --- | --- | --- | --- |
| Full Stack Software Developer | $78,920 | $65,589 | $92,228 | $100,384 |
| UX Designer | $74,665 | $63,607 | $84,139 | $98,685 |
| Application Developer | $70,501 | $59,448 | $80,779 | $93,828 |
| Game Developer | $64,601 | $57,304 | $73,549 | $97,591 |
| Multimedia Developer | $61,801 | $45,013 | $63,552 | $67,557 |
| Multimedia Designer | $54,638 | $40,968 | $56,002 | $63,859 |
Web Development Certifications
Certifications show potential employers that you are skilled in a particular field. However, some certifications carry more weight than others. Obtaining these web development certifications gives you an edge over your peers and increases your overall value in the field.
Professional Software Developer
This certification from the IEEE requires candidates to complete an exam online. This exam contains questions on software testing, software construction, software design, and software requirements.
If you want to qualify for this certification, you must have completed two years of education from a college in computer science or a related field. You will also need to have two years of experience in the industry.
Associate Software Developer
The certification, also from the IEEE, proves that you have basic knowledge of software development. It also proves your understanding of the processes and principles in software design, testing, and construction. To get certified, you'll need to show that you have the basic knowledge needed to develop software products.
You have to register for certifications and write an exam. After passing, you'll be certified as an Associate Software Developer.
CIW Web Design Professional
To get this professional certification, candidates must write two certification examinations. They include the CIW Ecommerce Specialist and CIW Web Design Specialist exams. Passing both exams gives you the related certifications.
This means that if you succeed in passing both exams, you will be given an extra Web Design Professional certification and the individual certifications you wrote the exams for.
The certification proves that you have a full understanding of website development and design. It also shows that you understand how to manage technical issues and conduct business online.
Web Development Professional Organizations
Professional organizations are important to professionals in every field. The right one can make a difference in your career. These bodies provide networking opportunities, materials, resources, and solutions to problems facing their members.
They also hold conferences and workshops to help you become more involved in the industry. Below are some top professional organizations to join as a web development professional.
This organization is known all over the world, and it supports the academic needs of current and future software developers. The focus of this organization is support for developers. This is one of the reasons why it is a prominent association.
It is a nonprofit organization, and it represents app developers and the software development industry. It supports developers as creators, entrepreneurs, and innovators.
Professional Developers Association
This association offers support for the development of mobile and web-based technology. It is also a leading innovator and proponent of supporting and certifying mobile app developers. It offers a library of resources as well as inclusive networking technologies to members.
Members of the organization can also benefit from the programs or choose from either of the paths of certification. It has a bootcamp-style course to help transform newbies to the industry into professionals within only a few months.
ACT | The App Association
This professional association has more than five thousand members. This number also includes freelance professionals and companies in the United States. The organization focuses on the development of software applications for mobile devices. It was one of the first to offer support for the mobile development side of IT.
The policy of this organization is designed to encourage and reward innovation in app development. Many members of this association have been at the forefront of innovation in the mobile industry.
Benefits of Earning an Online Web Development Degree
An online web development degree will give you the flexibility to work and study at the same time. It's for students who want to work in a fast-paced, dynamic, and technical industry. Due to high demand, most developers find jobs immediately after graduating. Your chances of finding a job are far higher than others in non-web development fields.
This degree can prepare you to develop websites, mobile apps, and software for organizations of different sizes. It also ensures that you get the skills needed to work as either front end or backend developers.
Lastly, you can earn more than others in different occupations with an online web development degree. Aside from the salary, this degree can offer job stability, career advancement opportunities, and technical mastery to make you stand out wherever you go.