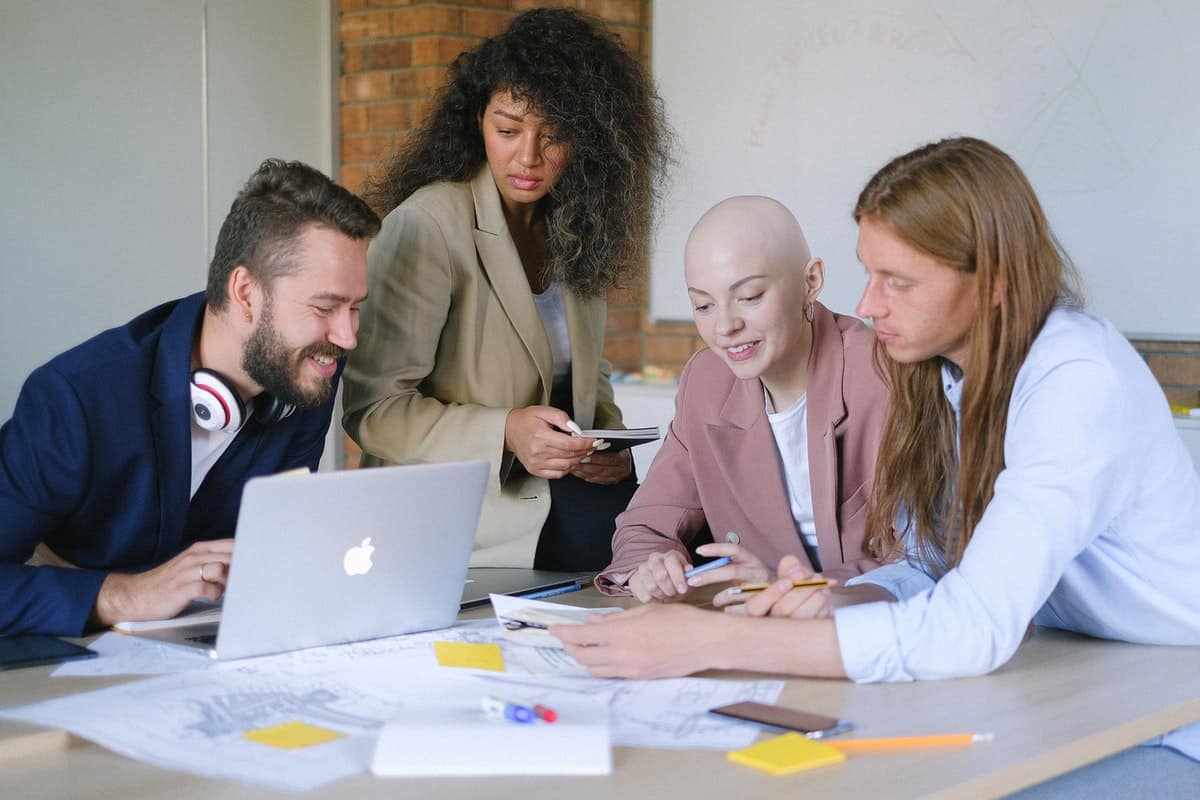 Guide to Setting Professional Goals
Setting goals is essential when you want to start or advance your career. Setting clear goals for the skills, qualifications, and timeline you want to achieve can help you keep track of your progress. In today's guide, we'll break down steps on how you can start setting professional goals.
What Are Career Goals?
Career goals are your objectives, aspirations, and wishes for your professional life. They outline what you want to achieve in your career within a specific period. They can also help you decide what qualifications and credentials you need to earn to reach these goals on time.
Career goals focus on your job and career advancement opportunities. A good career plan is clear and specific. Ensuring that your goals are achievable and realistic will set you up for success. With career goals, you can get a better job and earn a higher annual wage.
What Do Good Career Goals Look Like?
Good career goals are plans that you can easily execute. This doesn't mean that those goals don't involve working hard, but a good plan will lead you to exactly where you want to be. Your goals should be realistic since your professional future depends on them.
A SMART goal can make achieving your career dreams possible. SMART stands for goals that are specific, measurable, achievable, realistic, and timely. Luckily, it's an easy acronym to remember. Below are more extensive explanations of what a SMART goal is and how you can create your own.
Specific
Make sure your goals are precise and clear. A non-specific goal would be that you want to be successful. Instead, consider setting incremental goals. In one year, you'd like to attend a bootcamp to learn a new skill. In two years, you'd like to receive a specific certification. In three years, you'd like to use the new skills and certification to leverage a pay raise.
If your goals are specific, your path will also be geared towards these goals. To make your goal specific, envision precisely what you want to happen in two, three, or five years. Where do you see yourself by then? What steps do you need to take to achieve those goals? Writing these goals down can help you track your progress.
Measurable
Your goals must also be measurable so you can track your progress. For example, instead of saying you want to become an IT analyst within the next three to four years, you should break down your goal into smaller quantifiable parts like finishing the first phase of an online course by a certain date.
If you break down your goals into smaller, measurable parts, you can easily see where you exactly are in your timeline. It's also easier and less overwhelming to fulfill each of these tasks if they're broken down into these workable parts. Define your goals to reflect how much work needs to be done and when you intend to achieve them.
Achievable
When you say that a goal needs to be achievable, it only means that it must be doable. Aiming for a chief IT security position right after graduating from college is not an achievable goal. You can achieve a higher position, but you'll need time and experience to get there.
Set achievable goals like finishing an Associate Degree in Information Technology in two years. Then, apply for an entry-level job and earn relevant experience within the next two to three years. After that, you can apply for relevant certifications, climb the corporate ladder, and eventually reach your career path.
Realistic
Being realistic with your goals requires an honest evaluation of your skills and resources to see if you can achieve what you want. You don't need to undervalue your skill. Just be honest with it to avoid unrealistic goals and setting yourself up for failure.
As you set realistic goals, make sure to also account for hurdles and challenges you might encounter along the way. Set a career plan that would help you address these troubles successfully. For example, if you're bad with numbers but want to work in data science, you should budget yourself more time to learn.
Timely
Timely goals mean that you should have a deadline for yourself. When do you expect these goals to materialize? Are your goals short-term or long-term? When you have a deadline, you work every day towards reaching your aspirations. Your timeline also serves as your guide towards the finish line.
When you make timelines, make sure that you don't overload yourself. Be realistic about your timeline. Remember, a successful career is a marathon, not a race. You will get there at your own pace.
How to Set Career Goals Step by Step
The goal is not only to successfully come up with a list of goals but also to keep a positive attitude in maintaining and achieving them. Your daily grind is as important as your final output. To help you come up with career goals, here is a step-by-step guide.
Talk to a Mentor
If you want your goal to materialize, visualize how your future will look when you've fully achieved your goals. One of the best and most effective ways of doing this is to talk to someone you look up to who is now living the life you envision. Listen and take hints from their story and learn how they worked towards their goals.
Make SMART Goals
To motivate yourself to work towards your goals, choose to make SMART goals. Refer to the guide above as you make your SMART goals. Be as clear and realistic as you can with your goals so that you can achieve them in the most realistic and efficient way possible.
Write Down Your Goals
You need to write down your goals to make them tangible. Otherwise, they might not stay on your mind. According to a study from the Dominican University of California, written goals are more successful than unwritten goals. When you've written down your goals, put them somewhere to remind you what you're working towards.
Draft an Action Plan
Make an action plan to define how exactly you plan to achieve your goals. You can be as creative as using art materials and other ways to get invested when writing down your action plan. Through this, your plan will get cemented in your brain. Include a clear timeline in your action plan so you'll know your deadline.
Take Action
Your goals will remain goals if you fail to act on them. So, after drafting an action plan, act on your plan right away. Track your progress and see if you're within schedule. Every task you complete will lead you closer to your main relevant goal, so be persistent.
Top Tips to Achieve Your Professional Goals
When you're all geared up to work on your goals, consider these tips to help you achieve them. Make every day and every step count as this will define whether or not you're on the right track.
Stay Positive
It's easier to achieve your goal if you have a positive mindset. Never doubt your capacity to achieve your plans because that would only mean you're setting yourself up for failure. Materialize your dreams by claiming right away that you can reach those goals.
Train Your Self-Talk
It's easy to talk down on yourself or underplay your achievements. As a result, you can get derailed and lose your motivation. Instead of thinking of the things you lack, tell yourself that you're worthy of the success you're achieving. A positive mindset leads your body to also act positively towards your goal.
Keep Working
Striving for new goals can be difficult. This is why setting SMART goals is so important. Outlining small steps to achieve your long-term goals makes those goals achievable. You want to make sure that those goals are what leads you to your dream job so you're always motivated to keep moving.
Career Goal Examples
We have put together a few career goals to show you what reasonable professional goals look like. Short-term goals are things you want to achieve today, tomorrow, next week, next month, or next year. Any goal that goes beyond the 12-month mark is considered long-term. Read on and start making your own short-term and long-term goals.
Short-Term Career Goal Examples
Learn a New Skill
Learning a new skill is something you can achieve within a few weeks or months. If you want to start a new career in tech without a tech background, the quickest education pathway for you is to enroll in a coding bootcamp. This is especially applicable to tech skills.
Learn a new skill at the bootcamp and take on projects to hone your skills and knowledge. At a bootcamp, you can learn more and more skills every week. Set as many short-term goals as you need to reach that one long-term objective on your list.
Attend Networking Events
Networking can help you collaborate and learn from professionals in the industry you're reaching for. Attend department and industry-related networking events. Through networking, you can learn about what other people are doing and sometimes get feedback on your own work.
If you're looking for a mentor, this is the best place to seek one. Networking events will help you learn about the industry you're interested in. You can also take this opportunity to make connections in the industry and tell prospective employers about yourself. You can also meet career coaches that can help you create your career roadmap.
Earn a Professional Certification
Companies hire and promote individuals primarily because of their skillset, experience, and knowledge level. Furthermore, they also encourage employees to keep themselves abreast of the latest work practices and trends. Every industry has relevant certifications that you can earn.
If you get certified, it shows that you're willing to improve your work and gain better results to help the organization's success. You can also use your certifications to build a better LinkedIn profile and resume.
Long-Term Career Goal Examples
Achieve a Managerial Position
With your short-term goals completed, you can apply for or be promoted to a senior position. This will help you widen your involvement and perspective within a company. A managerial position is your ticket to an executive position.
Being a company leader also opens up chances for you to make a positive impact on the people you work with. They will also take their cues from you and your professional attitude will influence them in more ways than you can imagine. This is a great step in your career roadmap.
Improve Work Efficiency
If you want to climb higher the corporate ladder, you need to be an efficient worker. Though this can't be achieved overnight, your daily effort should be geared towards that long-term goal. Remember that efficient and excellent employees are always considered as company assets.
When there is an open higher position, efficient and performing employees are more likely to be considered for this position. When you perform well, the perks almost immediately follow. You can set smaller goals to become more efficient over time.
Land Your Dream Job
Regardless of the industry or job you are in right now, you can land your dream job. Having this be your ultimate goal will only make you want to work even harder because you love what you do. Again, this is not something that will happen overnight, so you need to invest time, effort, and dedication into this long-term goal.
When you're doing what you love best, it would be easy for you to put your best foot forward. You can go above and beyond without feeling stressed or burned out. Depending on your preferred position, reaching your dream job can take a few months or a few decades.
Final Thoughts
A sound output starts with a clear, workable, and well-defined plan. Take note of the tips we shared with you and try drafting your career goals. Whatever you have in mind, commit to it, and work hard. Soon, you'll be seeing yourself at the top.
It's never too early or too late to start career planning. According to the Bureau of Labor Statistics, you can start making career goals in high school. You will be ahead of the curve and reach your goals in a shorter time. Any job seeker can get their dream job with the right goals.