The Best Fun Creative Writing Courses for Kids
One way to boost your child's imagination is to get them to think of stories to write. There are many online creative writing courses for kids that will teach them the art of writing. Kids are imaginative, inquisitive, and curious. They love asking questions and making sense of the world around them. One of the ways they can express themselves is through writing.

Creative writing will not just help them learn a new interest, but it could also be a way to practice their writing skills. Kids love to explore and this will help them write stories, share what they feel, or come up with a silly poem that makes people laugh. This article explores creative writing for kids and outlines some of the best resources for their writing journey.
Can Kids Learn Creative Writing?
Kids can definitely learn creative writing. You can encourage them to write about things that interest them. Give them fun, creative writing prompts, like outer space, their favorite animal, or their favorite person on earth. Creative writing is an informal way of allowing kids to write whatever is in their minds.

Encourage their imaginations by getting them to write a funny story, a scary story, or a poem. Ask them questions that encourage them to think deeper. Take their ideas and help them to expand on them. Get them to describe things on a regular basis. These things can include their favorite book, their day, or their dreams.
Resources to Help Kids Learn Creative Writing
Different methods and resources can help your kids with their creative writing ideas. Writing courses could help hone their descriptive writing styles. They could also help to encourage reluctant writers to pick up a pencil.
Online Creative Writing Courses
WordUpKids has great online creative writing courses for kids. They include a fun, four-week course of writing exercises for $225. The advantage is that kids can share in a safe space and get insightful feedback from their teachers. They are encouraged to talk about their dream job, favorite activities, or dream vacation.
In-Person Creative Writing Classes
In-person classes for creative writing are possible, even with the ongoing pandemic. Young Writers' Institute gives workshops and summer camps for kids in North Carolina. In-person courses provide a way for kids to interact, collaborate, and learn from one another.
Creative Writing After-School Programs
After-school creative writing programs empower kids to use what they learn in school and put it into practice. After-school programs are great solutions for kids who have free time while parents are working. The courses are usually done in community centers, parks, or daycare centers, giving kids opportunities for exciting interaction.
Creative Writing Toys
Kids love creative writing toys to facilitate their writing. These can be different-sized pencils or pens, notebooks, or sketch pads. Things like colored pencils, magazines to make collages, or pictures of their favorite movie star could get their creative juices flowing. Kids will appreciate anything that helps them to express themselves.
Creative Writing Books
The way that children learn to write is by reading. Reading books like Author: A True Story, will help kids relate to someone who had to overcome childhood struggles on their way to becoming an author. The Best Story is another book kids can relate to, which is about a girl who joins a story contest but doesn't know which story she wants to write.
Online Creative Writing Classes to Help Your Child Learn Creative Writing
| Course Title | Course Provider | Cost |
| --- | --- | --- |
| The Ultimate Mystery Writing Course for Kids | Udemy | $14.99 |
| Creative writing for kids: write a spy story! | Udemy | $16.99 |
| Creative writing for kids: Write the future! | Udemy | $13.99 |
| Fiction Writing Workshop for Kids | Udemy | $13.99 |
| My Favorite Things- Fun and Easy Writing Course for kids | Udemy | $13.99 |
| Five-minute writing challenges – extended course | Udemy | $15.64 |
| Young Writer's Blueprint | Writing Blueprints | Free |
| Writing Foundations Level 1 | WordUpKids | $300 |
| Creative Writing Workshop for Kids | Outschool | $72 |
| Story Magic | The writers circle | $365 |
The Best Online Creative Writing Courses for Kids, Explained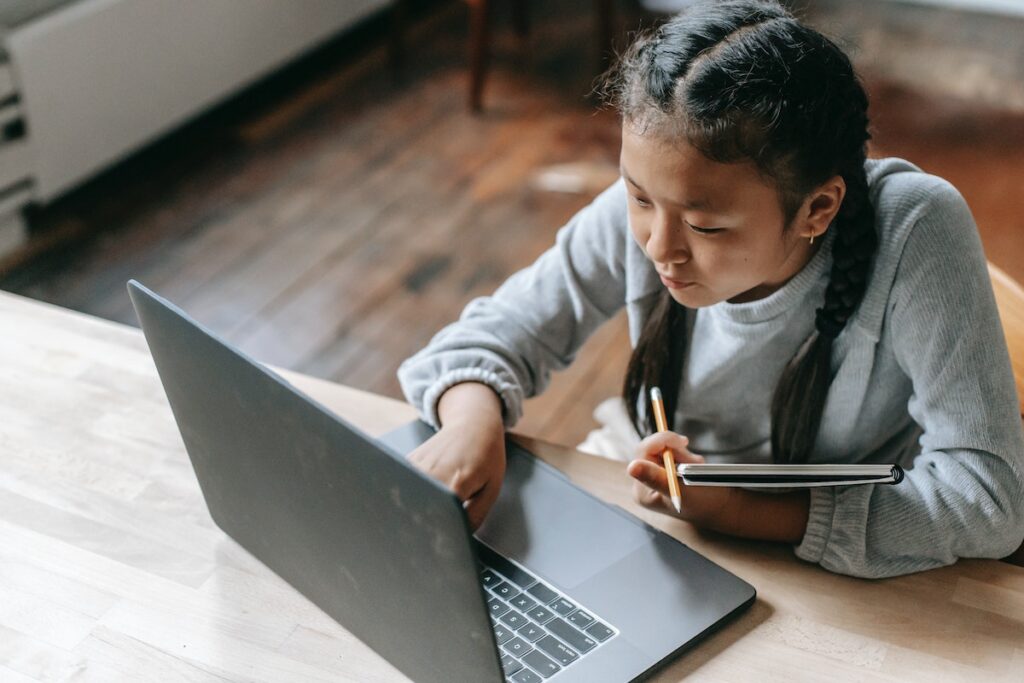 Course Provider: Udemy
Subjects Covered: Elements of a mystery story, how to write character's back story
Cost: $14.99

This online course allows kids to strengthen their creative writing skills. Steve Reifman, an award-winning author, helps kids think of exciting plots and create well-rounded characters. They will also learn how to allow their list of characters to evolve in the story.
Course Provider: Udemy
Subjects Covered: Writing techniques, how to plot a story
Cost: $16.99

Luke Richardson, an English teacher and author, teaches kids about character development and how to use them to create a great spy story. The wonderful thing about creating a mystery factor is that it develops kids' critical thinking skills.
Course Provider: Udemy
Subjects Covered: Writing techniques, tense and perspective, writing techniques
Cost: $13.99

This course focuses on writing thrilling futuristic stories. Kids will enjoy the imagery of futuristic settings and creating a backstory. This course doesn't only tackle the best way to write stories. It also looks into making a simple sentence sound good by using noun phrases and adjectives.
Course Provider: Udemy
Subjects Covered: Basic concepts about short stories, writing techniques
Cost: $13.99

The best way to teach kids to write is by getting them to write about things like love. Kids love animals, superheroes, and fairytales. This is one example of how this course teaches kids to develop their stories from a simple idea. Then, kids learn how to insert valuable lessons to add depth to their stories.
Course Provider: Udemy
Subjects Covered: Writing techniques, usage of first, next, and finally
Cost: $13.99

Cartoon animations are used in this course to teach kids paragraph and story starters. The course uses simple things like favorite colors, holidays, seasons, and animals to get them thinking creatively. Talking about everyday life will help them to learn how to write complete sentences.
Course Provider: Udemy
Subjects Covered: Writing techniques, description writing, adverbs and metaphors
Cost: $13.99

This extended course introduces the use of adverbs and shows how repetition helps in the creating writing process. Students do a five-minute creative writing challenge in every class. This allows them to think fast while still being able to develop a story. It also teaches about freewriting and how it can be part of their creative writing process.
Course Provider: Writing Blueprints
Subjects Covered: Creating characters and settings, writing short stories
Cost: Free

Young Writer's Blueprint is a free course that ignites the imagination with creative writing prompts. The course includes downloadable worksheets and videos. Kids also learn a two-step writing process and discover how to create a character in their story.
Course Provider: WordUpKids
Subjects Covered: Writing techniques and foundations
Cost: $300

Writing Foundations 1 provides an individualized teaching method based on a child's needs and age. The course is full of activities that will give kids a good starting point. The teacher's techniques allow children to develop new writing strategies and ideas.
Course Provider: Outschool
Subjects Covered: Elements of fiction, how to write fiction
Cost: $72

Creative writing workshops teach kids the core foundations of story writing. This is used to help them understand the elements of writing a fiction story. Students are introduced to the definition of a plot and conflict. The course helps students understand and use a theme and setting.
Course Provider: The Writers Circle
Subjects Covered: Elements of story creation
Cost: $365

Story magic gives kids imaginative writing prompts and role-playing exercises to develop their creativity. The course covers basic elements of story creation and guides them on how to write a story based on their ideas. The goal of the course is to spark story ideas without the pressure of academic requirements.
Benefits of Teaching Kids Creative Writing
There are many benefits of teaching kids creative writing. It develops their creativity, provides an outlet for expression, allows them to use their imagination, and builds their writing skills. With a little guidance, kids can write stories about robots, a desert island, or space travel. Creative writing teaches kids that there are endless possibilities, both in writing and in life.
Creative Writing for Kids FAQ

How can you help your child with creative writing?

You can help your child develop creative writing skills by encouraging them to write every day. You can give them journal writing prompts that encourage them to keep a daily diary. Remember that journals should be a safe place for your child to write freely. It's best to allow them to keep their journals private unless they choose otherwise. 



What are the types of creative writing?

The types of creative writing include personal essays, poetry, fiction, journal writing, and speeches. If you're interested in developing your writing skills, you should consider enrolling in an online creative writing course. 



How can kids write a story?

Kids can write a story by thinking about the type of characters they want to create, the theme of the story, and the general plot. It doesn't have to be complicated. These three elements will get them started in creating their own story.



How do you teach creative writing to kindergarten?

Kindergarteners don't practice creative writing at their age. However, there are creative writing activities for students that you can use to prepare them for creative writing in future grades. Some methods include encouraging creative thinking, reading stories to them, guiding them through creative storytelling, and drawing.