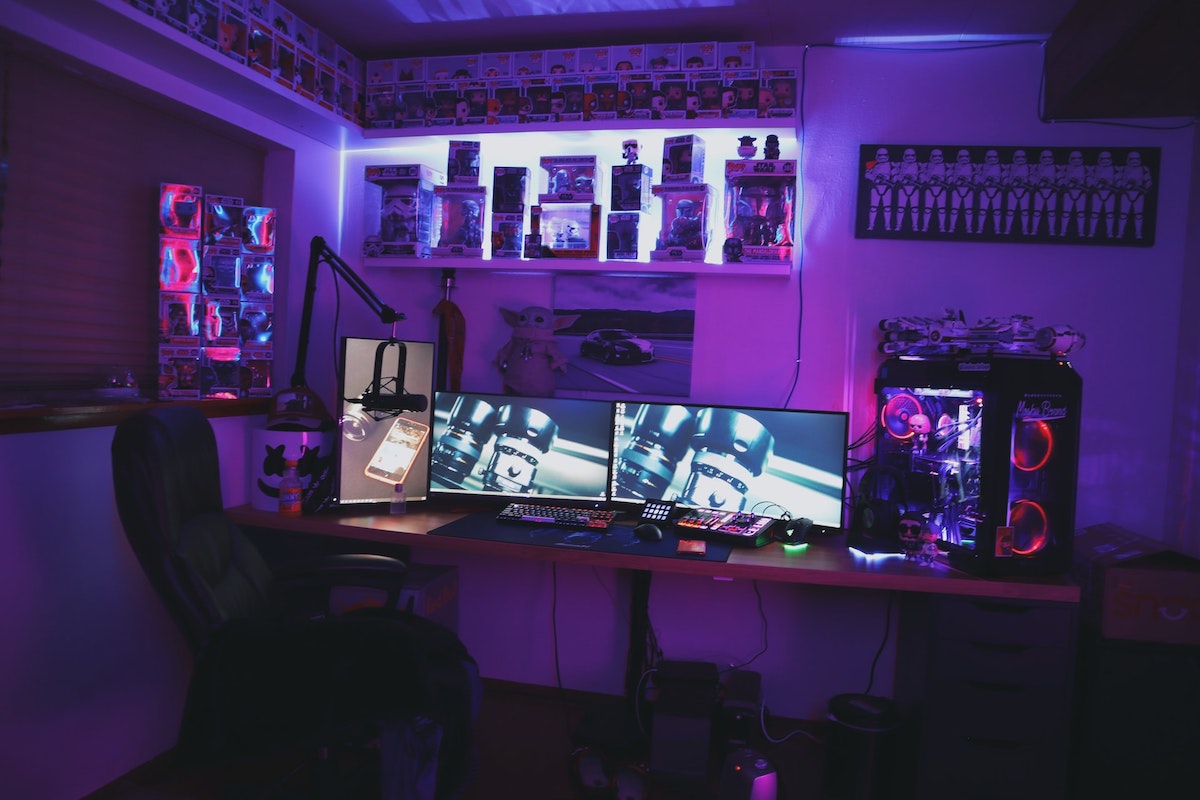 Top Tips to Create the Best Desk Setup for Streamers
A live or event streamer must use an adequate set of streaming equipment to make real-time broadcasts that connect with the audience and stimulate engagement. Knowing how to create the best desk setup for streamers based on your preferred industry allows you to easily optimize your productivity and financial returns, even if you have little streaming experience.

In this article, you'll learn which factors facilitate efficiency in a streaming workspace. We'll cover what ideal streamers desk setup should look like and how to create the best streamers setup based on your industry and job tasks. You'll also learn about essential technical and non-technical items that boost productivity for an ideal streamer workspace.
What Makes a Streamer Desk Setup Effective?
A desk setup for streaming is effective if it is designed for both functionality and visual appeal. When setting up your desk for streaming, consider your budget and the complexity of your daily tasks, particularly if it includes multitasking. Typically, your job as a streamer will include handling your equipment, creating content, and hosting video or game streaming events.
Streaming Software Quality
Although not directly related to your desk, using the right software for your industry can optimize the productivity of your streaming desk setup. If you're just starting out in the gaming industry, stick to platforms like Twitch and YouTube gaming. According to a 2021 survey by Statista, Twitch is the most popular platform for live streaming.

A vast majority of the most active and popular streamers in the gaming industry use Twitch streaming software and YouTube gaming, because of their comprehensive features. Some of them even partner with or work for Twitch. For music streaming, Spotify is a global leader, and Dacast is an excellent choice for education streaming.
Streaming Desk Arrangement
Streaming requires several pieces of high-tech hardware equipment. These can include a high-speed desktop or laptop, a tripod, headphones, a camera, cables, and batteries. So that your workspace doesn't look cluttered and unappealing, strategically place your items on top and around your work desk or the area viewers will see when watching your stream.

Aesthetic effects can increase the appeal of your desk setup. A simple but sophisticated design setting will generally appeal most to your target audience. A desk organizer can help you hide unflattering hardware. You can also boost your hardware setup with good lighting. An LED ring light is a common and effective option.
Central Location
You need a dedicated space to work and play. Streaming from a random location can cause unexpected issues and negatively affect your audience's streaming experience. Not having a dedicated workspace can affect your audio quality, internet connectivity, and other technical factors. Streaming equipment can be bulky and is more suited for stationary use.

Additionally, tasks such as editing and launching broadcast content require a certain level of intense focus. As such, you may have to work for long hours, making having a quiet workspace essential. You should ensure your streaming desk setup is designed for performance and comfort
How to Create a Streamer Desk Setup: 5 Top Tips
Your desk space design should fit your industry
The most popular industries for streamers are gaming, education, sales, sports, and music. If you're designing your streaming workspace for online classes or training, you might not want to go for a dim or dramatic room setting, which would be better suited for a videogame streamer.
Your desk setup should benefit your workflow. If you're looking to set up an education streamer workspace, natural lighting or a focused key light will lead to improved video quality. At a minimum, all streamers should have a video device controller, camera, tripod, laptop or desktop, and microphone.
Favor ergonomics accessories
Designing your streamer workspace with ergonomic items will help keep you comfortable and active throughout your workday. Ergonomic accessories help you optimize the quality of your work life by reducing negative effects such as fatigue, body pains, and other physical hazards. It can also help you save costs due to short-term equipment replacement or medical bills.
For a streaming room setup, an ergonomic chair with lumbar support, head, and armrests is ideal. A standing desk or a desk with an adjustable height, a mechanical keyboard, and a cable management tray can also help you stay comfortable. Try to keep these furniture accessories out of view to avoid distracting your viewers.
Choose a work environment you can control
Before deciding on where to set up your desk for streaming, consider what your ideal location would be. Working in a noisy environment can be irritating and make you easily lose focus. A noisy environment can even interfere with your live video feed, ‌affecting the sound quality of your streaming content. Your ideal environment should also provide good lighting for streaming.
A noise-controlled environment for your streaming room setup can help you avoid looking like an amateur streamer. Installing soundproofing in your streaming workspace can help you stay in control not only of any external sounds that may bother you or your stream, but also prevent you from bothering anyone else who may be around you.
Work within a budget
Quality video or audio content creation usually requires a somewhat large budget. Having a wide range of high-performing additional equipment like a second camera, additional video encoders, a mobile cart, or top-of-the-line audio and mixing equipment are good additions but aren't must-haves for beginners. Make a budget and only invest in items you absolutely need.
In most cases, your streaming setup may exceed its estimated price range. Doing some initial research on your industry, the essential products it requires, and the product prices before creating a budget will help you stay within your ideal price range.
You need ample space
If you're going to be streaming original content, you'll need plenty of space to work in, especially if collaborating with colleagues. Don't forget to take into account the space your hardware tools occupy.
A minimalist design is often best for a streaming desk setup, and enough room to stretch is beneficial. If you can, dedicate a room or studio space to your streaming activities. However, if you're just starting and can't afford a large space, your bedroom can work, too.
5 Things You Should Invest in When Designing Your Streamer Workspace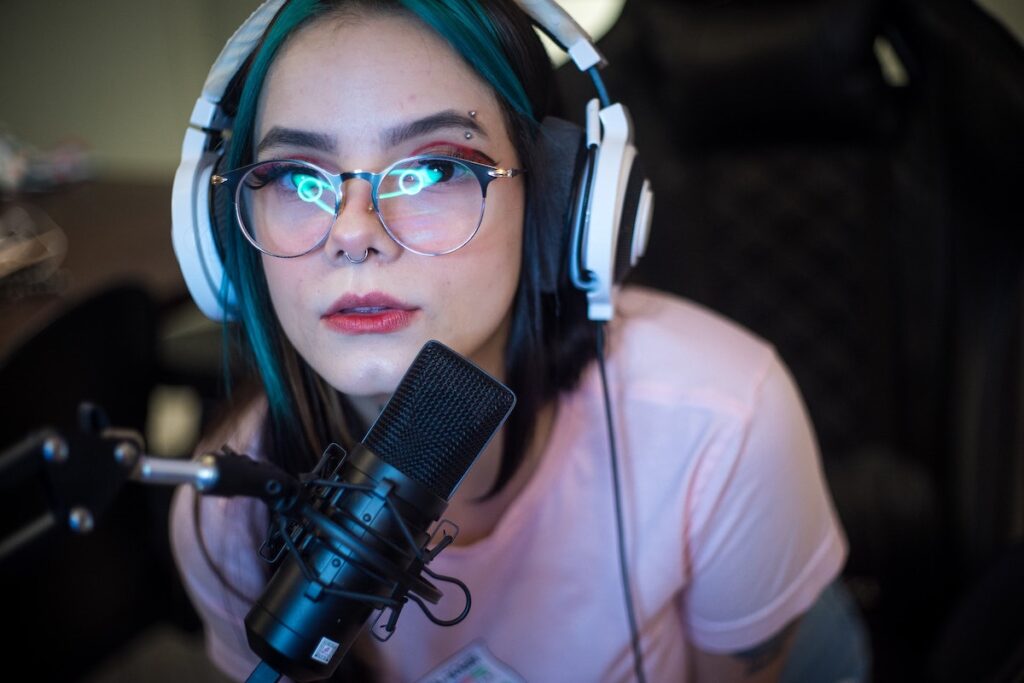 Beginner streamers may get overwhelmed with the wide variety of high-tech items a professional streaming setup requires. This is why we took the time to provide you with a list of the most essential items for your streaming workspace, regardless of your experience level.
Technical Items to Consider
Monitor. A large monitor screen or even dual monitors allow you to easily multitask whilst streaming. Two monitors can let you share live content on one screen and chat with your viewers on the other. Alternatively, you can use your mobile phone to multitask, but this can significantly limit your productivity.
Video Encoder. A video encoder lets you convert your video file from one video format to another. When making a real-time video stream, a live encoder will compress your video and audio files and use smaller network bandwidths, saving data across shared network connections. A file-based encoder will compress your video file into a smaller file size.
Camera. A streaming webcam will let you go to real-time meetings, classes, gaming sessions, and virtual conferences over the Internet. A stream cam with an optimal HD resolution delivers quality video content, optimizes audio quality, and minimizes motion glitches. Cameras are one of the most important tools for high-quality live videos.
Microphones and Audio Mixer. A USB microphone with clear sound quality is vital. Sound mixers help professional streamers balance, fine-tune, or combine sound waves from microphones, live audio devices, or prerecorded tapes. If you don't have a background in sound technology or sound engineering, an audio mixer isn't necessary.
Streaming Accessories. Your streaming kit isn't complete without accessories like an external graphics card, a capture card, laptop risers, a microphone arm, monitor arms, a stream deck, headphones, and a microphone pop filter. These accessories will help your stream's level of quality.
Non-Technical Items to Consider
Adjustable Desk. Adjustable standing desks are good for your psychological and physical health, especially if working at a desk for long hours. An L-shaped desk will give you more room to set up essential streaming tools like your speakers and monitors.
Ergonomic Chair. An ergonomic chair supports your spine and muscles more than regular chairs. The lower back support it provides reduces compressions and back pains. Ergonomic chairs were designed to be comfortable and help you maintain a neutral posture to keep you focused. Those with a headrest reduce eye and neck strain.
Tripod. Tripods are essential to your video creation and streaming workflow by providing stability and efficient support for your camera. They also allow you to capture images using long exposures. They usually have an adjustable height and let you increase light compositions and change angles with ease.
Key Light. A key light is an essential part of a lighting setup, allowing you to use direct or indirect dimensional focus on an object. This artificial light is the primary light source for any lighting design setup. A key light that can change color can help you create dramatic effects.
Furniture accessories. Your streaming workspace should be appealing to your viewers. Avoid leaving furniture items around your table and workspace. Plants can also improve a room's air quality and fragrance, and a shelf helps reduce any clutter on your table. Dynamic RGB lighting in the background is common for people streaming video games.
Creating the Best Streamer Workspace
If you want to be seen as a professional streamer, you need to create a professional desk setup. This will give you the professional leverage you need to turn your view ratings into actual earnings. Streaming can be a stable income source. Based on the survey by Statista, top Twitch earners like Felix Lengyel, Nick Kolcheff, and Ibai earn over $1,000,000 annually from streaming.

As a professional streamer, your skills are transferable to a wide range of career opportunities such as product management, UX/UI design, game development, and digital marketing. You could also earn an impressive annual salary of up to $77,000 as a streamer, based on the salary review by ZipRecruiter.
Best Desk Setup for Streamers FAQ

What kind of desk should I get for streaming?

You need a regular or adjustable standing desk for streaming. Your desk should be rectangular and sturdy. You can customize it to fit your height or purchase it from leading desk vendors close to you. Ideally, an L-shaped desk is best suited to game streamers, as it can hold dual or triple monitor setups. If you can, go for tables that have feet support, a desk pad, and keyboard trays.



How can I make my stream room look good?

Proper lighting and sophisticated furniture accessories will help make your stream room look visually appealing to viewers. Your live videos will require you to share your visual location, so avoid streaming from anywhere too bland or too fancy that may distract viewers from your content.



What does every Twitch streamer need?

Twitch streamers need their own custom-made Twitch streaming kit which should contain a streaming webcam, microphone, audio mixer, colored lights, a large monitor, a headset, and a video encoder. 



What does a beginner streamer need?

Beginners should start with a few affordable basic pieces of equipment such as a microphone, a camera, good lighting, streaming software, good streaming content, and stable internet. Other necessities are a monitor, a comfortable chair, and a sturdy table. Beginners shouldn't spend too much on flashy decorations. A few plants and paintings will make your space look good.