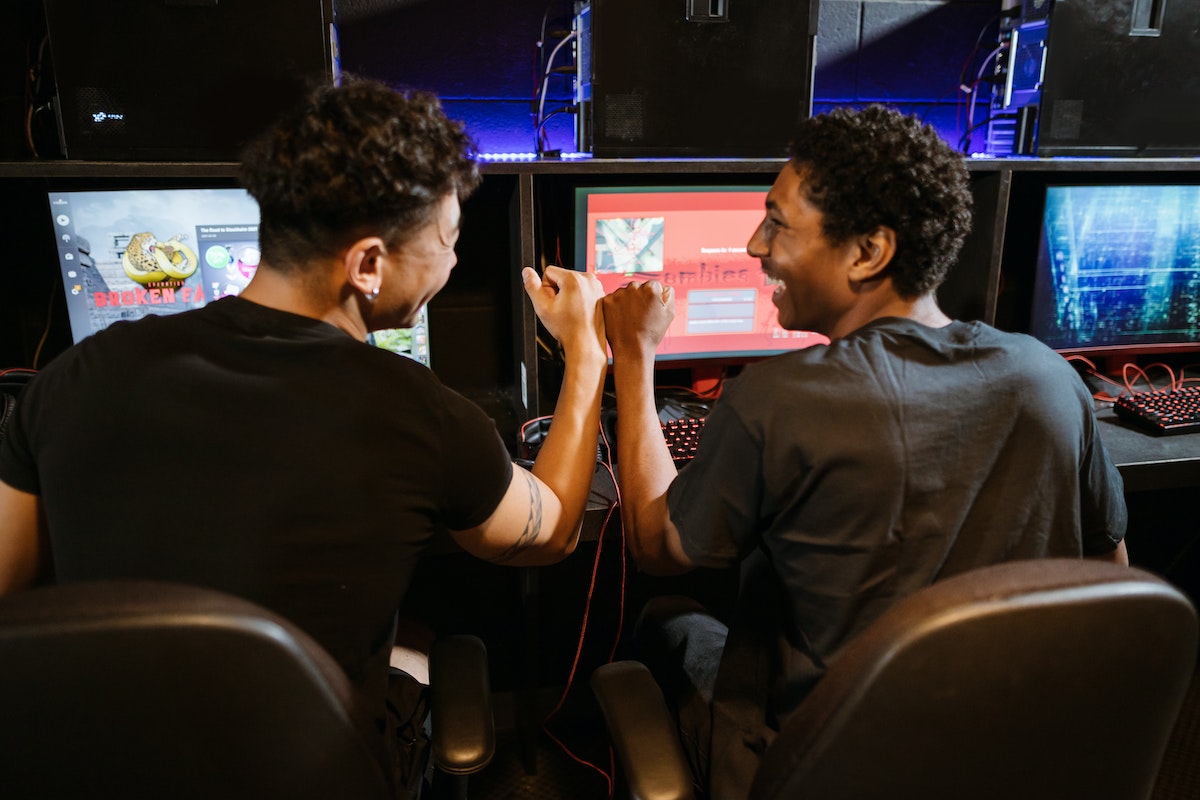 Top Tips to Create the Best Desk Setup for Gaming
The best desk setup for gaming enhances your performance while keeping you comfortable. Its superior ergonomics prevent injuries after long gaming sessions. A good gaming desk setup is aesthetically pleasing and makes a personal statement.

If you are serious about your gaming workspace, learning how to optimize it is a worthy effort. In this article, we show you how to create the best gaming setup to give you an edge as a player.
What Makes a Gaming Desk Setup Effective?
An effective gaming desk setup allows you to have comfortable, high-performing gaming sessions. It has good ergonomics to prevent back injury and eye strain. It's durable and made with high-quality, sturdy materials.

An effective gaming desk setup creates an immersive gaming experience for optimal performance. Its clean design and cable routing make it functional and beautiful, and it also maximizes your enjoyment.
Ergonomics
An ergonomic desk setup helps you feel comfortable and keep good posture. Good ergonomics prevent pain and injuries from long gaming sessions. The ideal height of the chair lets you place your hands comfortably on the gaming keyboard when playing your favorite games. As a rule of thumb, the height setting should be adjustable.
Aesthetics
Commit to a style and a colour combination. The best-looking gaming desks have a clean and minimalist design. Place the lighting strategically to reduce glare and create an inspiring gaming atmosphere.

Cable management features improve aesthetics and simplify cleaning. They also prevent tripping hazards. Use RGB strips and LED lights to enhance immersion and give character to your gaming room.
Lasting Quality
An effective gaming desk setup should last for many years without significant wear. However, you don't need to buy a desk with a flashy design to get quality and durability. It is a good idea to invest in a sturdy gaming desk with a durable base. A good gaming chair offers superior ergonomics without sacrificing comfort or durability.
How to Create a Gaming Desk Setup: 5 Top Tips
Budget
Check your budget before looking for gaming desk setup ideas. There is a massive price bracket for gaming desks and chairs. Aim for durability and ample space without sacrificing ergonomics.
The Arozzi Arena, which costs $400, is one of the most popular gaming desks. The $180 Hbada ergonomic home office chair is also a favourite among gamers. Both products have the specifications you expect from a superior gaming desktop setup.
Monitors
Gaming monitors show the image rendered by your graphics card. These monitors have higher specifications than standard monitors. Choose ultrawide displays with a high resolution and refresh rate.
Check out Intel's detailed guide on what to look for in a gaming monitor. The responsiveness of gaming monitors improves the immersive experience and reduces eye strain.
Lighting
An effective game room has strategic lighting. The lights should not be too dim or too bright. If the light is too dim, it might cause you to squint and strain your eyes. Too much light washes out the images on the screen.
Choose indirect lighting and lower the wattage of your bulbs if the room is too bright. Use RGB lighting to keep the floor illuminated. Overstressing your eyes can cause computer vision syndrome.
Space
Clever use of space keeps your gaming station comfortable and functional. The most important dimensions to consider are depth, width, and height. The ideal size depends on your body size and the number of monitors. That's why it's important to have height control over your desk and chair. If you run out of real estate, use vertical space to place speakers and extra monitors.
Sound
Any acceptable battle station setup needs impressive sound. Noise-cancelling, over-ear headphones are the best option. They deliver realistic, positional sound for deep immersion. You can buy headphones from reputable brands like Sennheiser or Bose. Be sure they are wireless to reduce cable clutter and increase your movement range.
Before you buy the headphones, make sure they're sturdy and comfortable. You can also use different headphones depending on the game you're playing. Check the videogame's specifications for optimal audio performance.
5 Things You Should Invest in When Designing Your Gaming Workspace
When designing your gaming space, you will need to invest in a few things. A good workspace and a comfortable environment will enhance your gaming experience. Consider investing in the following items to get the best gaming experience.
Technical Items to Consider
Desk Air Purifier. Air purifiers remove 99% of the airborne particulate matter in your gaming environment. They trap pollutants and harmful chemicals like ammonia and chlorine. Air purifiers also neutralize unpleasant odours.
Headphone Hook. Headphone holders keep your headphones safe and easy to reach. It declutters your desk and protects the delicate materials of the headphones. High-quality headphones are expensive, so you have to protect your investment with a headphone hook.
Desk Cup Holder. It is important to stay hydrated during long gaming sessions. But a spill on your gaming desk could ruin your controllers. Cup holders prevent spills and give you more gaming surfaces.
Monitor Stand. A monitor stand allows you to adjust your multi-monitor gaming setup. It gives you better control of the distance of the screens from your eyes. Place your monitors at the perfect height and prevent neck and shoulder pain.
Cable Ties. Velcro cable ties help you arrange your cables and avoid sudden disconnections. They also reduce tripping hazards. Check Wired's guide to cable management to learn how to organize your cables.
Non-Techincal Items to Consider
Ergonomic Chair. If you sit all day at work, make sure you have a chair that is ergonomically designed to keep you as upright as possible. Investing in an ergonomic chair can help you maintain good posture and a healthy energy level while reducing symptoms of lower back pain.
Good Lightning. Use ambient lights and get creative with RGB light strips. Place some personal items to give your station some personality. Keep your gaming room well-ventilated and at a comfortable temperature.
Time Tracker. Time flies during engaging gaming sessions. However, playing late into the night can disrupt your circadian rhythms and affect your sleep quality and metabolism. You can have a time tracker that can help you establish a routine for gaming.
Cleaning Materials. Keeping your gaming desk setup clean improves morale and makes you feel better. You should get cleaning materials because clutter causes stress and reduces focus. Proper cleaning prevents premature wear of your gaming gear.
Desk Shelf. Not every gaming accessory may be kept within the desk area. A desk shelf is a necessary and cost-effective space-saving choice for arranging your workspace since it stores files and other stuff that you would rather not have on your desk,
Creating the Best Gaming Workspace
Creating the best gaming workspace is a rewarding challenge. Use your creativity to find the perfect balance between performance and comfort. Adjust your desk setup with ergonomics in mind and use clever cable management. Always go for quality and durability if you are a hardcore gamer because it is a worthy investment.

You're probably a serious gamer if you're building the best gaming station. Consider becoming a game developer if you are passionate about creating gaming experiences. With the Metaverse and enhanced virtual reality, the gaming world is becoming exciting and they are different types of gaming jobs available today.
Best Desk Setup for Gaming FAQ

Who makes the best gaming desk?

Arozzi makes the best gaming desk. Arozzi's desks are sturdy and well-designed. The Arozzi Arena Gaming Desk is among the most popular gaming desks among hardcore gamers. It has height adjustability and plenty of space for a dual monitor setup.



What is the best job in the video game industry?

The best job in the video game industry is as a game developer. A game developer manages all aspects of game development, from audio to visual design. There are other jobs like game tester and animator. With an online degree, you can access the highest-paying jobs for gamers.



How deep should my gaming desk be?

Your gaming desk should be between two and a half to three feet deep. You might need more space depending on your body size. The distance from your eyes to the screens should be at least 20 inches. It should be 90 inches in width if you use monitors about 30 inches wide. 



Are gaming desks worth it?

Yes, gaming desks are worth it because they keep you comfortable for long periods of time. They are sturdy and durable and have ergonomics that prevent injuries. They have adjustable height and can fit dual monitors.